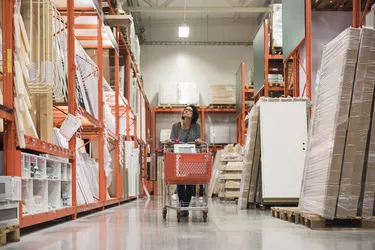 If you shop at the Home Depot, you might take advantage of the store's credit card to get special financing offers for major home purchases or discounts on certain products. You might also end up receiving a Home Depot gift card or a store credit for a return you make. In any case, you'll want to know your current balance to either understand your spending power or make arrangements for making timely credit payments to avoid damage to your credit score. The method you use to check the balance will depend on the type of Home Depot card you have.
Finding Your Home Depot Credit Card Balance
While the store offers home improvement credit card options, the Home Depot Consumer Credit Card is most common for individuals. The Home Depot explains that this card works only for purchases through the retailer since it doesn't have a Visa, Discover or Mastercard logo for use at Amazon or other stores. You'll get sent a monthly statement with your balance at the time the cycle closes, but you may want a more updated number for personal finance reasons.
Citibank offers a page and app where you can sign in, see your current balance and make payments on this card. You'll also be able to see your credit limit, minimum payment, due date and other details as well as sign up for a text banking option. However, you'll need to first create an account if you don't have one. You'll find a "Register Your Card" option that asks for the card number and security code, your name and the last four digits of your Social Security number.
Alternatively, you can call the customer service number on the back of the Home Depot store credit card. You'll want to listen for an option to get your card balance and provide information such as your card number and other identifying information. You can also use this option to speak to a person if you have a question about your balance.
Determining a Home Depot Gift Card Balance
Home Depot offers its gift cards in physical and electronic form both in the U.S. and Canada, and they work for both in-store and online purchases. If you have a brand new physical gift card, you may find the amount shown on the packaging. Electronic gift cards saved in digital wallets or printed out will show the amount alongside other details.
If you've already used the card or you don't see any denomination on it, you can conveniently check the balance online by entering the gift card number and your PIN. The Home Depot provides a special page for U.S. customers to do this. Another option is to present the card in person to a cashier who can provide the available balance.
Cardholders don't need to worry about gift card balances expiring. The retailer doesn't charge inactivity fees either. The card is also reloadable, so you can increase the total amount available at any time.
Checking a Home Depot Store Credit Balance
The Home Depot says in its return policy that you might get some store credit instead of a regular refund in certain situations. For example, you might have paid with a now canceled Visa credit or debit card or not have a receipt to prove the purchase. In such a case, the store usually requests your photo ID and gives you a store credit card that works only in physical stores and not at HomeDepot.com.
The store's FAQ mentions you can only find your remaining balance by visiting your local store and going to a checkout lane where an employee can help you. While the retailer used to offer additional options for checking store credit balances, it enacted this new rule in 2016 for security reasons.