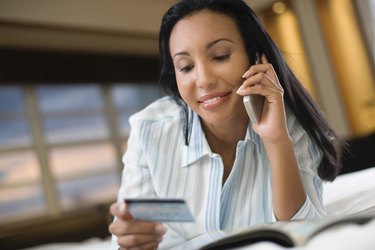 You can check the balance of your Home Depot credit card either online or by phone. If checking your balance online, you must first register for online access if you don't already have it. This requires setting up a unique user ID and password. Make sure you also have your card handy. You will have to enter the number when registering for online access. You will also need your card number when checking your card balance over the phone.
Balance Available Online
Visit the "Credit Center" page on Home Depot's website. A link to this page is at the top of the website. Click on the type of card you have. Home Depot provides two consumer cards. One is known as the "Consumer Credit Card" and the other "The Home Depot Project Loan." Home Depot also provides two commercial cards, the "Commercial Revolving Charge Card" and "Commercial Account." When you click on the card you have, you will be taken to another page. Enter your User ID and Password. If you don't have one, you haven't registered your account for online access yet. You can do this by clicking the "Register Now" button under the heading "Not Registered Yet?" on the same page. Once logged into your account, you will be able to see your account balance and do other things, such as make a payment.
Balance Available by Phone
You can also check your balance by calling customer service. Call (866) 875-5488 for consumer accounts, (866) 875-5489 for commercial revolving charge cards and (866) 875-5490 for commercial accounts.