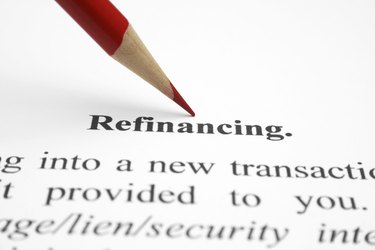 Homeowners refinance to replace their current mortgage with a more desirable loan or to "cash out" and receive a lump sum of their home's equity. If you have sufficient equity, you can do a bit of both through a limited cash out refinance. Also known as a rate-and-term refinance, a limited cash out allows you to obtain more favorable loan terms, use equity to pay off mortgage-related debt and receive a limited amount of money back at closing.
How Lenders Limit Cash Out Amounts
Lenders don't finance more than your home is worth or allow you to aggressively cash out on your home's equity when refinancing. Lenders finance a specific percentage of your home's value, a ratio known as a loan-to-value, or LTV. An 80 percent LTV or less is ideal, but some lenders may allow up to a 95 percent LTV for a limited cash out refinance.
Costs Covered By Limited Cash Out
You may receive a relatively small amount of money upon closing a limited cash out refinance. Fannie Mae loan guidelines allow borrowers to receive the lesser of 2 percent of the new loan amount or $2,000 cash back. The refinance loan balance may pay off closing costs, such as lender and prepaid fees and a previous first mortgage and second mortgage.