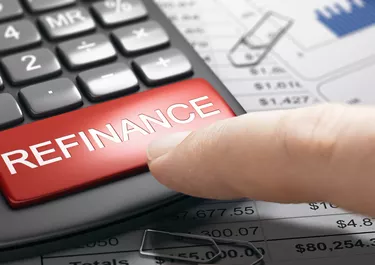 The world of home financing and mortgages is confusing and can be challenging to navigate. If you have a United States Department of Housing and Urban Development (HUD) partial claim, you must contend with HUD partial claim forgiveness or HUD lien payoffs before you make any changes to your home's finances. The rules involved with these can be challenging to understand without a bit of background.
HUD Partial Claim Mortgages
A partial claim mortgage is a program through the Federal Housing Administration (FHA) that's designed to help FHA mortgage borrowers reduce their payments and avoid foreclosure. It became especially relevant in 2020 and 2021 as lower-income homeowners struggled to weather the financial impact of the COVID-19 pandemic.
FHA mortgages are designed to help lower-income families purchase homes by offering low down payment loans (as low as 3.5 percent). Because of the comparatively low initial investment, banks consider these mortgages to be high risk and, truthfully, they sometimes have a higher default rate than traditional mortgages.
Reducing Monthly Payments With HUD
Essentially, under the HUD partial claim program, FHA mortgage holders can apply to have their monthly payments reduced. HUD pays the reduced amount, but homeowners do not need to pay that portion of the money owed until their mortgage is fulfilled or the end of the mortgage term.
These loans can defer a significant amount of money owed for many years, but you must eventually pay that additional HUD loan regardless of the length of time. Remember that it is your responsibility to contact HUD and arrange repayment of partial claim loans at the end of your first mortgage.
Refinancing With a HUD Partial Claim
The answer to the question of whether you can refinance with a HUD partial claim is both yes and no. While you can refinance your home if you have been granted a HUD partial claim, you cannot refinance it before you pay off that partial claim loan in full.
The good news is that if you're seeking refinancing options, then that likely means that your financial situation has improved. If you have the funds, you can make a HUD partial claim payoff request and pay the amount due in full, typically without any early payoff penalties.
Other Information About HUD Partial Claims
There are a few other related factors to consider when it comes to a HUD partial claim and refinancing. One of these is the amount of the partial claim loan and payoff. HUD pays your mortgage lender a lump sum that's designed to reduce your payments for the life of your first loan. This means that the payoff amount may be quite significant.
Another thing to keep in mind is that having a HUD partial claim on an FHA mortgage may make you a less attractive candidate for refinancing in the first place. Even though it's responsible to seek legal, government-sanctioned methods to avoid foreclosure, some banks will hesitate to loan you money if you've had to take that step in the past.
If you're ready to refinance, make sure you're prepared to pay off your partial claim in full, in addition to making a significant down payment on your new loan. Check your credit score with all three of the major reporting bureaus and clear up any discrepancies. Try to reduce your other debt (credit cards, vehicles and so on) as much as possible.