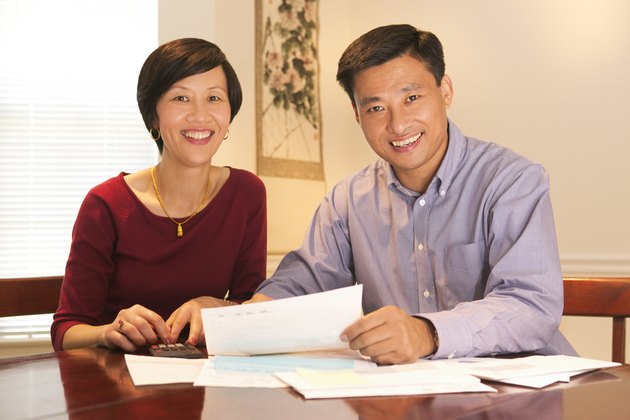 Various offices and agencies of the U.S. government will give interest-free loans, which the loan recipient can apply to purchasing a home, entering an educational program or giving assistance to a small business. Other government loans carry low-interest rates, but applying for them involves no fees. The government offers these loans to stimulate the economy and invest in projects, communities and services that it believes will benefit the American public. Individuals should always check the availability of no-interest and free application government loans before investigating other possibilities.
Step 1
Apply for an interest-free government loan for a home downpayment for first-time homeowners. If the applicant or spouse has not owned a home as a principal residence for three years or longer, she can apply for a government loan, which equals a 15-year, interest-free loan. This loan works through the tax system, and the loan principal equals 10 percent of the home's purchase price, with a maximum loan amount of $7,500. Because of the complexity of the interest-free loan, loan advisers suggest that a potential applicant first consult with a tax attorney or accountant.
Step 2
Research the Small Business Administration's America's Recovery Loan (ARC) program. The ARC program provides interest-free government-guaranteed loans to small businesses to assist the business in making interest and principal payments on existing debts. Apply for a SBA interest-free loan through the SBA's Recovery website.
Step 3
Check eligibility for a free government education loan. The government awards low or no-interest loans to individuals who meet loan requirements, which include the applicants' intended course of study, the applicants' ethnic background or the applicants' willingness to work in a needed profession in a specified locality after graduation. Applying for these loans involves no expense. Apply for these loans through GovLoans.
Step 4
Investigate free loans available through the U.S. Department of Agriculture. These loans can apply to housing in rural areas or farm needs. The terms of USDA loans encourage settlement in rural areas as well as farm and agricultural development and stability. Submitting an application for these loans involves no expense, and the interest rate on many of these loans provides an opportunity to procure a low-interest loan with excellent terms. Submit an application for the relevant loan through the USDA.