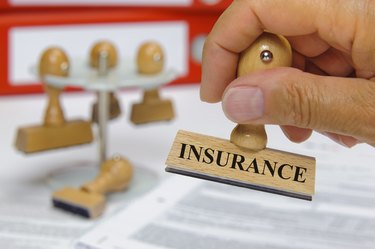 Mortgage insurance is a necessary but costly consequence of low down-payment loans. When you purchase a home for less than 20 percent down, your lender requires you to pay for mortgage insurance in most cases. There are two types of this insurance: private mortgage insurance, or PMI, and government mortgage insurance, simply known as MI. Because the insurance covers your lender in case you default, lenders are willing to make loans despite low down payments when a mortgage insurance policy is involved.
Determined by Loan-to-Value
Loan-to-value, or LTV, is a ratio that describes the percentage of a home's value that is financed. For instance, if you put 20 percent down on a $200,000 home, and finance the other 80 percent, your LTV is 80. Home loans with an LTV higher than 80 percent require some type of mortgage insurance, with the exception of Veterans Affairs and federal rural home loans. Conventional loans require PMI and Federal Housing Administration loans require MI.
Conventional PMI Rules
PMI on a conventional loan ranges between .3 percent and 1.15 percent, according to Bankrate. The percentage applies to the original loan amount and is paid on an annual basis via monthly installments. Lenders may allow a borrower to make a large one-time PMI payment to avoid monthly installments. This is known as lender-paid PMI or LPMI. The coverage remains in place, but the lender makes payments to the insurance provide, rather than collecting recurring payments and forwarding them to the company.
FHA MI Requirements More Stringent
The FHA requires MI on all mortgages, as of the time of publication. MI rates range from .45 percent to 1.05 percent, depending on the loan size, LTV and repayment term. Most loans that equal $625,500 or less and were originated with a down payment of 5 percent or less, qualify for an MI premium rate of .85 percent. Loans originated as of the time of publication carry MI for the life of the loan, unlike older FHA loans, which could be canceled once a 78 percent LTV is reached.
Automatic Cancellation Requirements
The mortgage insurance requirement on a conventional or FHA loan is lifted when the LTV reaches 78 percent, according to federal regulations. Conventional loan borrowers may request PMI cancellation when the loan reaches an 80 percent LTV. However, lenders must automatically cancel PMI when the loan reaches 78 percent of the home's value as of the loan origination date. Automatic cancellation is required when the loan reaches the expected date for this LTV, according to the Consumer Financial Protection Bureau. Home value appreciation generally doesn't allow you to cancel PMI sooner.