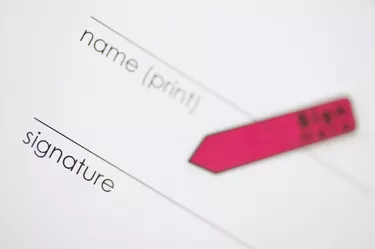 Buyer and seller real estate contracts vary from state to state. In some states, such as Arizona, the standard purchase contract used by many real estate professionals was designed by the state's realtor association. Generic blank contracts are available in office supply stores or contacts might be prepared by the attorney of the buyer or seller. In real estate school they teach agents that technically a contract can be written on the back of a napkin. When filling out a real estate contract, there are certain vital elements that should be included.
Step 1
Read the entire contract prior to filling it out.
Step 2
Enter the legal names of both the buyer and seller, indicating which party is buying and which party is selling.
Step 3
Identify the property that will be conveyed, by including the street address, city, state, zip code, lot, block, tract and parcel number.
Step 4
State the price to be paid for the property, including how and when the payment will be made.
Step 5
Clarify the amount of any earnest deposit, where the deposit will be held, what will happen to it at the close of escrow and who gets the earnest deposit should the sale be canceled.
Step 6
Indicate the close of escrow date along with any consequences should the property fail to close on time.
Step 7
Express any warranties conveyed with the property, such as what items will be in working order or the agreed upon condition of the property at the close of escrow.
Step 8
Choose a title and escrow company (not the escrow officer), if one will be used for the transfer of title, and include that in the contract.
Step 9
Include any disclosures regarding the property.
Step 10
Specify the buyer's rights to due diligence, such as how long the buyer has to inspect the property.
Step 11
Include a signature for both the buyer and seller, indicating that each accepted the terms of the contract, along with the date and time of each signature.
Tip
It is often advised that you should consult with your attorney when filling out a real estate contract.