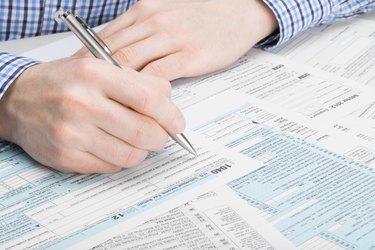 The U.S. income tax rate schedule is complex because it uses a graduated tax rate system, exemptions, deductions and credits. The amount of money allowed at each tax rate changes each year but the basic bracket structure remains the same.
10 Percent
As of 2009, married couples are taxed at a rate of 10 percent on the first $16,700 of taxable income earned. For single taxpayers, it's the first $8,350 of taxable income that is taxed at 10 percent.
15 Percent
The next tax bracket for 2009 is 15 percent. Couples are taxed at this rate on any earnings over $16,700 and up to $67,900. The first $16,700 is still taxed at the 10-percent rate. For single people, the 15-percent rate is for any amounts over $8,350 and under $33,950.
25 Percent
Couples will pay 25 percent on earnings between $67,900 and $137,500 in 2009. Anyone filing single will pay this rate on earnings between $33,950 and $171,550.
28 Percent
The next tax bracket for 2009 is 28 percent. For couples, any earnings above $137,500 and under $208,850 are taxed at this rate. The single bracket is between $171,550 and $372,950.
33 Percent
Things level out for married and single folks at this point. Married couples will pay 33 percent on earnings over $208,850 and singles will pay on amounts over $171,550. Both married and singles hit the limit on this rate at $372,950.
35 Percent
Whether single or married, all income over $372,950 is taxed at a rate of 35 percent, no matter how high the income may be.