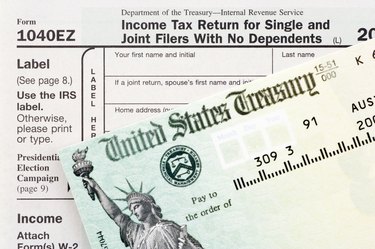 Discovering a mistake on a past tax return might mean you are owed a refund. The IRS allows an amended tax return, or IRS form 1040X, to be filed for the current year or for up to three prior years. Receiving your refund may take up to 16 weeks, but you can track the status on the IRS's "Where's My Amended Return?" webpage.
Research Online
The IRS has set up a webpage that lets you quickly and easily check the status of your amended return and impending refund. The status of the return can take up to three weeks from the date it is mailed to show up in the IRS system. Log onto the IRS's "Where's My Amended Return?" webpage and enter your Social Security number, date of birth and ZIP code when prompted. Click the "continue" button when all of the information is entered. If your return has been processed, the site will show the status of your amended return and refund.
Personal Assistance
If the status on the Amended Return page shows that you are not getting the refund you believe is due, you can visit a local IRS office or call the IRS toll free number at 866-464-2050 to speak to a customer service representative. Have copies of the relevant returns and supporting information, such as W-2's, with you when speaking to the IRS agent. Confirm all of the calculations made by yourself and the IRS to make sure that the final status is correct.