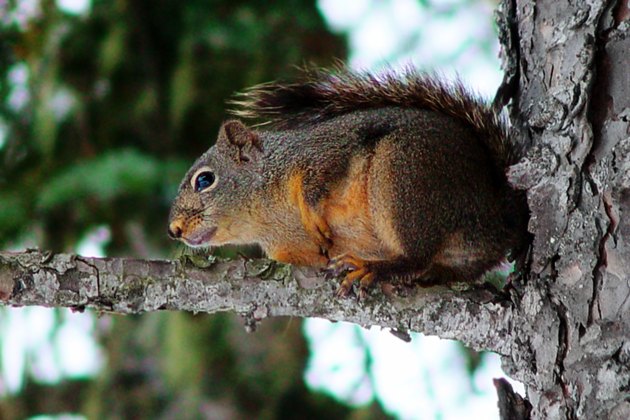 When you feel sorry for the skinny squirrels in the middle of winter or want to get the rodents away from your bird feeders or vegetable garden, set up a squirrel feeder. Providing an inexpensive food of your choice will keep your backyard squirrels happy, well-fed and hopefully keep them out of the food you don't want them to eat. Although garden supply stores and websites sell squirrel feeders, you can make your own from inexpensive materials you are likely to have on hand.
Step 1
Cut the scrap lumber with a hand saw into three pieces, one measuring about 5 inches by 5 inches, another measuring 5 inches by 4 inches and the last measuring about 5 inches by 12 inches.
Step 2
Pre-drill three small holes in a row across the 12-inch piece of wood, about 4 1/2 inches up from the bottom.
Step 3
Set the 5-inch square piece of wood perpendicular to the 12-inch piece, with the holes lined up with the end of the 5-inch piece of wood.
Step 4
Screw three galvanized wood screws from the back of the long piece of wood into the middle of the shelf you made with the small piece of wood.
Step 5
Set the 4-inch by 5-inch piece of wood under the shelf, sticking out from the long piece of wood. The 5-inch side should extend out under the center of the shelf and the 4-inch side should go down the center of the long piece and end flush with the bottom. Mark where this goes.
Step 6
Pre-drill two holes along each of the two sides where the 4-by-5 piece of wood meets the squirrel feeder. Put the piece of wood back in place and screw galvanized wood screws through it. This piece will help support the shelf.
Step 7
Position the long piece of wood vertically with the shelf sticking out toward the bottom. Drill a hole up through the shelf, near the center, and screw a long galvanized wood screw straight up through it. At least 2 inches of screw should be exposed.
Step 8
Pre-drill holes near the top and bottom of the squirrel feeder and nail it to a tree in your yard near where you see squirrels.
Step 9
Screw an ear of dried corn onto the screw sticking out of the shelf. Most garden supply stores sell dried corn. When the corn is gone, replace that ear with another one.
Things You'll Need
Scrap lumber, approximately 5 inches by 21 inches by 1 inch

Hand saw

Drill

Galvanized wood screws

Nails

Dried corn