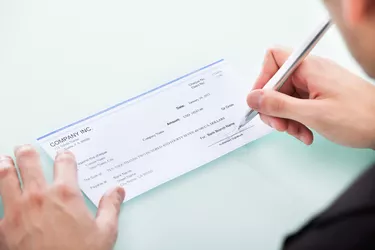 Official bank checks are used more and more by individuals to make payments on or to pay off debts. Official bank checks serve as a form of payment to show that you have the funds available to make a purchase. Banks will issue these checks only after payment from the purchaser is received.
Description
An official bank check is one that is issued by a bank on your behalf that serves as a guarantee of funds. The funds are first withdrawn from your account before the check is issued to you. These checks are issued as offical bank checks and signed by a bank representative.
Function
Typically people use official bank checks because they are requested by the payor as a form of payment. Payors request offical bank checks to ensure that they are receving verifiable funds since funds from personal checks might not always be available.
Fees
Your bank may or may not charge a small fee to issue an official check. You should always check with your bank regarding any fees that they charge before being issued an official bank check.
Payors
A variety of businesses will request payment via an official bank check, especially if you're making a purchase that requires a large amount of money. Some companies that will request official bank checks as payment include mortgage companies as payment for downpayment and closing costs and auto lenders when paying by check to purchase a car.
Misconception
An official bank check is not the same as a cashier's check. Official bank check funds are withdrawn immediately from your account, whereas cashier check funds are withdrawn from the bank's account after you pay them the total face value of the cashier's check plus any fees.