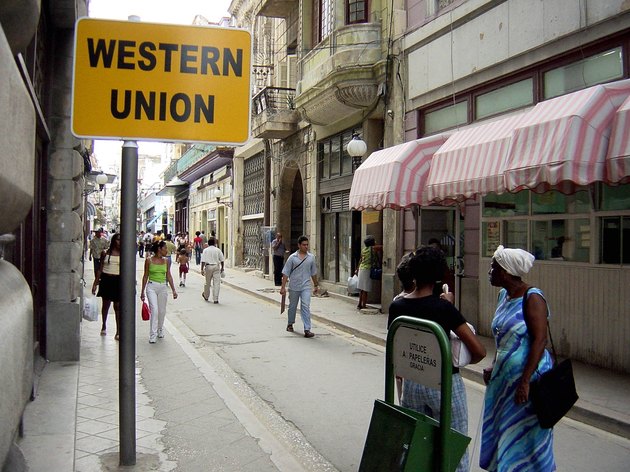 Picking up your Western Union money transfer can be done quickly by going to an authorized agent, providing the necessary documentation and requesting the funds. If that's not convenient and you're willing to wait a little longer, you can get the money deposited directly into your bank account or onto a prepaid card if you prepare in advance.
In Person
Step 1
Find the Western Union agent nearest you by logging onto the Western Union website and clicking on the "Find Locations" link. Before you leave to visit the agent, make sure you have the money transfer control number printed on the sender's receipt. If not, contact the person who sent you the funds and have her give you that information.
Step 2
Provide the sender's first and last name, the city and country that the money was sent from, and the amount sent to the agent. Next, provide the necessary personal information. The form requires you to include your first name and last name, your address and your telephone number.
Step 3
Show the agent your government-issued ID. Make sure the name on the ID matches the name the sender put on his form, otherwise you may have problems receiving the funds.
Step 4
Sign the receipt from the agent. You'll then receive your funds.
Bank Account
Step 1
Ask the sender to arrange to have the money transferred to your bank account. The sender needs to arrange this option when he provides the funds.
Step 2
Give the sender your name, bank name, bank account number and routing number.
Step 3
Wait patiently. If the sender pays with a credit or debit card, the funds typically get there within three business days. A direct transfer from a bank account or via online bill payment is cheaper for the sender, but takes six business days to arrive.
Prepaid Debit Card
Step 1
Get a prepaid debit card from Western Union if you don't have one already. You can request one online at the company website. It usually takes seven to 10 business days to arrive.
Step 2
Get the money transfer control number from the sender. The sender doesn't need to specify that the funds should be transferred onto the prepaid card, but without the money transfer control number you won't be able to load it onto yours.
Step 3
Go to the "Receive Funds" tab at the Western Union website and select the prepaid debit card option.
Step 4
Type in your prepaid card number, the money transfer control number that the sender received when he provided the funds, and a security code provided by the website.
Tip
If you're receiving the funds in the Philippines or Kenya, you can ask to receive money on your mobile wallet. As of 2015, that service was not available in the United States.
Things You'll Need
Government-issued ID

Money Transfer Number