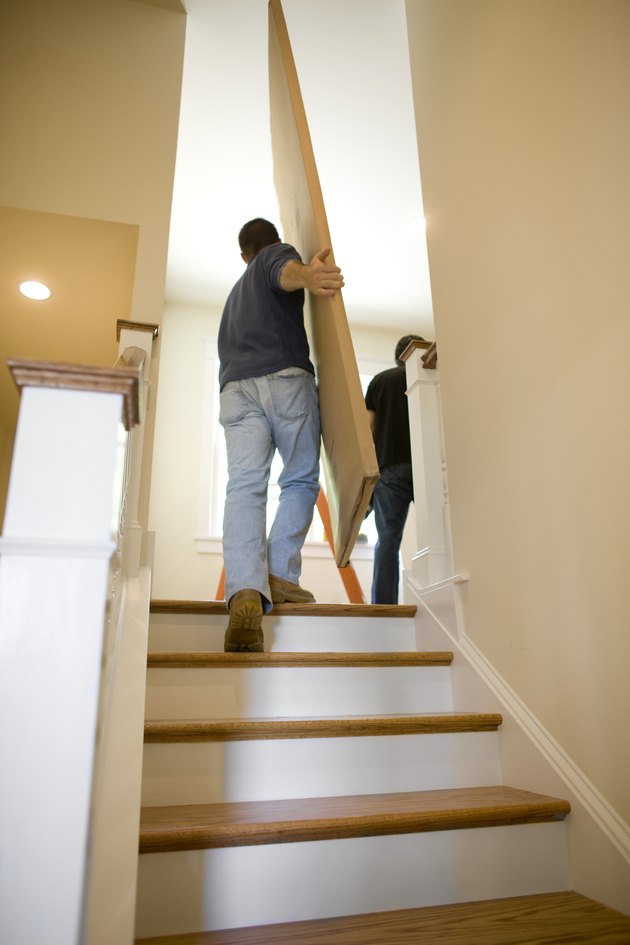 You can buy or refinance a home with a conventional rehabilitation loan or an FHA 203(k) loan. The Federal Housing Administration insures the 203(k) program, protecting lenders if you default. Conventional loans aren't government-insured and can be used for more types of repairs. Both FHA and conventional rehab loans require licensed contractors to perform property repairs. Rehab loans differ from traditional construction loans, because you can convert a rehab loan to permanent financing after renovation.
Credit Criteria
If your credit is less than stellar, opt for a 203(k) loan. FHA lenders typically require a 640 credit score but may allow scores as low as 600. The FHA's insurance guarantee allows more flexibility in setting credit criteria. Conventional lenders usually require at least a 680 for Fannie's HomeStyle rehab loan. Borrowers with excellent credit -- and at least a 740 credit score -- get the best interest rates, which can make a conventional rehab loan cheaper than an FHA rehab loan. In general, with either type of loan, the higher your credit score, the more you can borrow relative to your home's value.
Loan-to-Value Limits
Loan-to-value, or LTV, is a ratio that describes the relationship between the rehab loan amount and the home's value after repairs are made. The FHA has the highest LTV allowed for a rehab loan at 96.5 percent, which requires a 3.5 percent down payment. On a refinance, you need 3.5 percent equity to meet the LTV requirement. A Fannie HomeStyle loan has a slightly less generous LTV at 95 percent, meaning you would need at least 5 percent down or 5 percent equity on a refinance loan. Both the 203(k) and the HomeStyle only permit limited cash-out refinances, which allow a change in the interest rate and loan terms but no significant cash back to the borrower.
Debt-to-Income Ratios
Your housing payment for an FHA 203(k) loan can't exceed 31 percent of your gross monthly income. The housing payment includes principal, interest, taxes and insurance. This cap is known as a debt-to-income ratio, or DTI. Your housing payment plus recurring monthly debt payments also can't exceed 43 percent of your gross income. However, these are guidelines established by the FHA. An FHA lender using automated underwriting software to qualify you may accept a higher DTI ratio -- up to 55 percent.
HomeStyle loan borrowers with lower credit scores can have a total DTI up to 36 percent and up to 45 percent DTI with higher credit scores. The LTV ratio and the loan type -- fixed- or adjustable-rate -- also affects which of the two maximum DTIs apply.
Construction Process
Work specifications and bids from licensed contractors determine the amount of renovation funding you receive with a 203(k) or HomeStyle loan. A renovation escrow account established upon closing holds the funds during the project. You draw money and pay for repairs as work is completed and approved by the lender. The lender ensures that all work specifications are met in a timely manner and according to bids. The 203(k) loan may require an FHA-approved consultant who visits the property, completes a report detailing the scope of work needed and provides an estimate before you get the loan. The consultant also inspects completed work so that you can draw funds and pay contractors after closing.