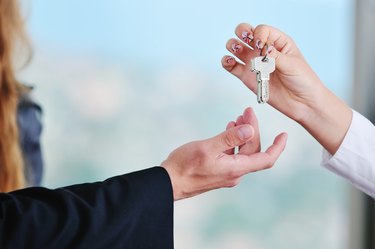 Finding an apartment to rent may prove challenging and time-consuming, especially in areas with few rentals and stiff competition. However, you'll find similar requirements for renting an apartment regardless of the rental housing demand. To rent an apartment, you'll need to file an application, prove that you can afford the apartment and that you'll keep it in good condition.
Income Needed to Rent Apartments
Seek a rent payment that's approximately thirty percent to one-third of your monthly income. For example, if your gross monthly income is $2,000, landlords assume you can afford rent payments of $600 to $700 per month. Estimate how much you can afford to pay for utilities such as electricity, heating, water and sewage. Determine what utilities you must pay and what utilities are paid by the landlord. In addition to monthly rent, most landlords charge a security deposit, which can equal up to two months of rent.
Required Background Information
Most landlords perform a credit check before approving a rental application, therefore, check your credit before you apply for an apartment. Be certain the credit report contains accurate information so that you don't risk denial or unfavorable rental terms do to errors. Collect written recommendations from former landlords and ask your employer for a statement about your employment dates and pay. Many landlords require copies of your paycheck stubs and income tax forms to verify income. If you have low or no credit, consider finding a cosigner or a roommate who has good credit and sufficient income to assist with the rent.
Completing the Rental Application
Completely fill out the rental application. Sections regarding employment, previous landlords and references usually require contact information and addresses. Include your Social Security number, driver's license number, bank account information and credit card numbers. You often need to answer questions as to whether you've ever filed for bankruptcy, have been sued, evicted or convicted of a crime. You'll also have to provide emergency contact information. Also, pay the application or screening fee at the time you submit the application, which are customary in some areas. State law often dictates the type and amount of application-related fees you may charge.
Deciding on Rental Type
You may have the choice between a month-to-month rental agreement or a long-term lease. Landlords often require at least a six-month or one-year lease. With a month-to-month rental agreement, you may be asked to move out or your rent may go up with just one month's notice. You have more security with a lease, however, if your plans change and you need to move, breaking a lease may prove costly. You'll likely have to pay rent for the duration of the lease. Check the month-to-month or lease agreement for these specifics before you sign.
Inspecting the Apartment
Thoroughly inspect the apartment before you move-in. Evaluate the floor coverings and condition of walls and ceilings and test the heating and cooling systems. Check light fixtures and wall plugs and run taps in sinks and tubs to ensure hot and cold water availability and proper drainage. Test safety features, such as door and window locks and smoke detectors. On a move-in checklist or otherwise in writing, report needed repairs or items that require cleaning to the landlord. Discuss the required maintenance to ensure your apartment is move-in ready or that any defects will be addressed within an acceptable time frame after you move in.