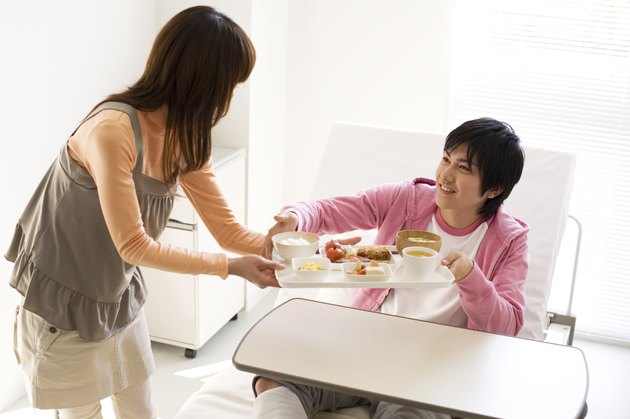 If you file a joint return with your spouse, you may find an unpleasant surprise around tax time. The Internal Revenue Service can take your tax refund to repay debts owed to federal or state agencies, such as old tax bills, child support payments or a defaulted loan. If the debt in question is the sole responsibility of your significant other, you may be able to win relief as an injured spouse. Doing so can protect your share of the refund from being seized.
Step 1
Qualify as an injured spouse. To do so, you'll have to show that the IRS is using the joint overpayment for a debt you're not liable for – such as a defaulted student loan debt incurred by your husband before you were married. You'll also have to prove you qualify based on the income, payments and credits reported on your joint return. If you don't have any reported income, make any tax payments or claim any refundable tax credits, your share of any refund would be $0 and the designation wouldn't qualify.
Step 2
Download a paper copy of Form 8379 from IRS.gov if you're filing a paper return. Fill out the form completely, noting which income, deductions, credits and tax payments are from your revenue-producing efforts in the relevant tax year. Comparing that to what your spouse earned and paid helps determine how much of your refund you'll be able to save.
Step 3
File Form 8379 along with your joint return. If you're filing by postal mail, send both documents to the IRS center that processes the return for your area. This information is found on your tax return instructions. You'll send it to the same address if you're filing it by itself after submitting your joint return electronically, or if you're filing it along with an amended return. If you're submitting it by itself and you filed your joint return on paper, send it to the same IRS address where you sent the original return.
Step 4
E-file in accordance with your tax program's instructions. The specific path to the form depends on your program, and you likely won't be prompted to fill out the form by just going through the general process. Go to the "Miscellaneous Topics" tab and click on "Injured Spouse Relief," or go to the internal search function and type "Injured Spouse Relief" or "Form 8379." Once you're there, the program will ask the necessary questions to fill out the form. It will be sent along with the joint return at no extra cost.
Tip
Generally, Form 8379 takes 11 weeks to process if filed electronically along with a joint return, and 14 weeks if you file both the form and the joint return on paper. If you file Form 8379 after the joint return has been processed, expect to wait about eight weeks for the IRS to process it.