Some banks require you to deposit a certain minimum amount of money to open a bank account. Others allow you to open a new account with no minimum deposit. Look around for a bank account that meets your needs and has other desirable features.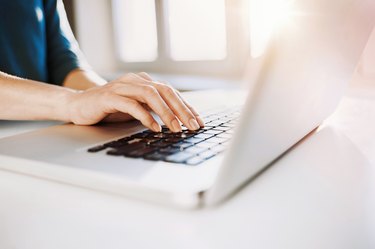 Minimum Deposits
Some banks require you to put a minimum deposit in an account in order to open it or to avoid being charged a fee. Banks will offer a variety of account options for customers with different needs, including free checking accounts with no minimum deposit, checking accounts with interest for customers with balances above a certain level and accounts that do not require a minimum balance requirement but charge a monthly fee. Sometimes you can avoid the fee by meeting other requirements, like having your paycheck directly deposited to your account. If you have an account that charges a fee if your balance drops below a certain level, it can be worth keeping the minimum amount in the account to avoid the fee if you have the money.
Opening Accounts Online
Opening a bank account online is convenient because you don't need to visit a physical bank branch or even make a phone call. It can also help you save money. Some online only banks offer better terms than their brick-and-mortar counterparts, since they save money by not having branches. Some banks also make available to online customers different products than they offer to customers who regularly visit their branches.
To open a bank account online, you'll generally need to provide some form of proof that you are who you claim to be. That helps the bank to avoid fraud and to comply with anti-money laundering laws. For example, many U.S. banks require you to provide your Social Security number and a U.S. mailing address, as well as a copy of identification such as a driver's license. It's a good idea to make sure you have your documents handy when you go to open a bank account, whether online or in person.
Once you open the account, you'll likely want to transfer some money into it. You can generally do so by electronically linking and transferring money from another bank account or arranging direct deposits from your employer or someone else who pays you regularly. With many banks, you can also deposit a paper check to an online account by signing the check and mailing it to the bank or by scanning it with a mobile banking app.