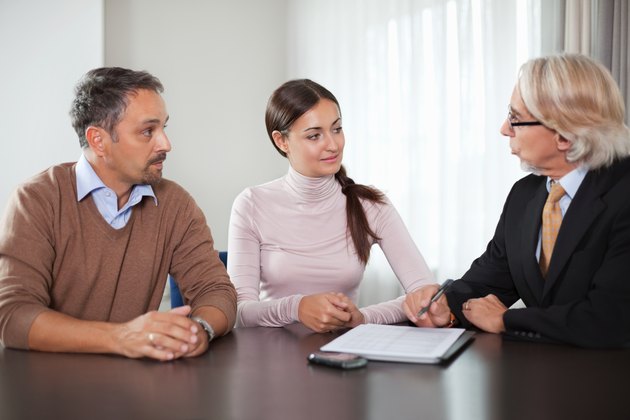 Having poor credit limits your options if you need money fast. If low-interest personal loans aren't available because of your credit score, most of the options you're looking at are risky or expensive. Check the costs before agreeing to any loan arrangement. Depending on your source of funds, this risk may take the form of high interest or social consequences if you fail to pay the money back.
Cash Advances
You should be able to get a cash advance if you're not maxed out on your credit cards. You can get a cash advance at a bank's automated teller machine by choosing the "credit" option. Otherwise, you usually can go to the issuing bank and get money from a teller. You'll pay a transaction fee based on the amount you access, and often there's no grace period, so interest starts accruing right away. If you're already having problems managing credit, this can put you further in debt.
Pawn Shops
If you have jewelry, electronics or other possessions with high resale value, a pawn shop may be willing to give you a short-term loan. You'll leave the item as collateral and get a ticket allowing you to repossess the items by paying back the loan plus an additional amount in fees or interest. If you're still short when the balance comes due, you usually can pay an additional charge to extend the loan. If you aren't able to redeem the item on time, the pawn shop can sell your property. You might be able to sell the items directly to the pawnshop in some cases.
Selling Possessions
Additional loans just exacerbate debt problems. If you have possessions that would be more valuable to someone else than they are to you, try to find them a new owner and take the cash instead. Gold jewelry often can be sold quickly for a good price based on the value of the metal. Collectibles and antiques can be sold at local stores or via online auction sites. A yard sale or flea market can be a place to get rid of less valuable items.
Payday Loans
Payday loans cater to customers who have a steady job but need cash and don't mind paying a huge interest rate. But payday loans also can trap borrowers who rely on it for nonessential, nonemergency expenses. Requirements vary based on the lender, but you'll generally need to bring copies of your last few paychecks, your bank statement, a utility bill and a blank check. If approved, you'll be able to borrow funds and postdate a check for the amount, plus interest. That check serves as collateral; the payday lender generally expects you to repay the loan in cash. Fees vary, but generally you'll pay about $15 for every $100 borrowed for a two-week term. If you have to extend the loan, you'll pay that fee again.
Friends and Family
The most cost-effective solution to a temporary cash crunch might be asking family members or friends for a loan. They may be more understanding than commercial lenders about your financial situation and be willing to spot you some cash. However, you'll need to treat this obligation as seriously as a bank loan and repay it as agreed. Unlike with a bank loan, you can't avoid running into your lender in social settings, and failing to repay the debt can rupture even the closest social and familial ties.