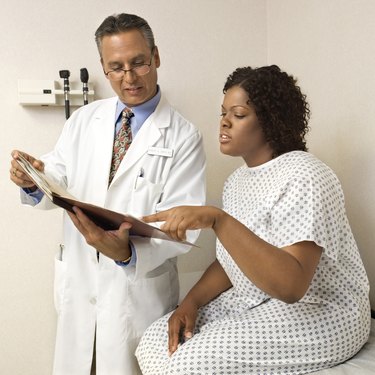 The Health Savings Account is a tax deductible medical savings account used to pay for qualifying medical expenses throughout any given year. These accounts can be opened through participating health insurance plans or through private trustees such as banks. Contributions remain in the HSA until used, and the account is portable, moving with you if you should change jobs. Read on to discover the tax benefits of Health Savings Accounts and how you can claim your HSA contributions on your next federal tax return.
Qualifying
Step 1
Determine whether or not you meet the IRS Health Savings Account qualification standards. You must be participating in a high-deductible health plan. Eligibility for the entire tax year is granted as long as you are insured on the first day of the last month of your tax year -- December 1 for most taxpayers. You cannot have any other health coverage, except as permitted by IRS guidelines. Coverages such as workers compensation, hospitalization, disability, dental, vision and accident coverages are all permissible. You cannot be on Medicare, nor can you be claimed as a dependent under any other person, even if they never actually claim you on their return.
Step 2
Keep active and updated records of contributions and withdrawals from your Health Savings Account. Generally, you will receive monthly and year-end statements for your HSA from the trustee. Maintaining your own records, however, will allow you to compare and ensure that your transactions are being recorded properly, and provides the most accurate information for your tax return. The IRS requires record keeping sufficient to demonstrate that distributions were use exclusively for qualified medical expenses, and that those expenses were not paid or reimbursed from any other source. Additionally, the expenses in question cannot have been taken as an itemized deduction in any year. These records do not need to be sent with your filings, but must be kept with your personal records in case of audit.
Step 3
Obtain IRS Form 8889. Locally, you can find this and other extra forms at libraries and some post offices. You can also download the form from the IRS site.
Completing Form 8889
Step 1
Read the instructions to Form 8889 completely before beginning to fill out the form. Getting acquainted with the terminology, qualifications and instructions beforehand can save time and make completing the form less stressful.
Step 2
Enter your name -- and spouse's name if filing jointly -- and Social Security numbers. Under Number 1, check "Self-only" or "Family" to indicate which type of HSA you hold.
Step 3
Use Part 1 to determine your HSA deduction, excess contributions made by you and excess contributions made by your employer. Maximum allowable contribution for a self-only account are $3,100, and $6,250 for a family HSA. Check for updates and changes by consulting Publication 969 at the IRS website.
Step 4
Follow Form 8889 Instructions to complete Part 1. If you and your spouse must complete two 8889 forms, you will add together the amount from Line 4 of each form, and enter that combined figure on Line 60 of Form 1040. Use the worksheets provided on the Form 8889 Instruction booklet to assist you in determining the correct figures to enter.
Step 5
Begin Part 2 of Form 8889 to determine total HSA distributions for the filing year. Here you will determine qualifying distributions received during the year, including those rolled over to a different HSA. Excess contributions, and the earnings on those excess contributions, that were withdrawn by the due date of your return must also be included on Form 8889. Once you have completed the calculations for Part 2, you will transfer these amounts to the applicable lines on Form 1040.
Step 6
Determine additional tax for failure to maintain HDHP coverage on Part 3 of Form 8889. Use the Line 3 Chart and Limitation Worksheet in the instruction booklet to determine your partial year coverage amount. Complete the steps, as directed on the form, and figure any additional tax -- a 10 percent penalty -- that you may owe due to excess contributions. Transfer this amount to Form 1040, Line 60.
Tip
If you and your spouse are filing "Married Filing Jointly" and you each have an HSA, you will both need to complete Form 8889 for each HSA .
Use the services of a qualified tax preparer if you do not understand any part of the instructions with regards to Health Savings Account contributions in order to avoid penalties that may occur from improper filing.
Warning
You are required to file IRS Form 8889 even if your employer was the only contributor -- not you or your spouse -- to the HSA.
You cannot take a deduction if your employer was the only contributor to the HSA
You will be penalized not only for excess contributions that you have made, but also for any excess contributions made by your employer.
Things You'll Need
IRS Form 8889

Monthly and annual HSA statements

IRS Form 1040