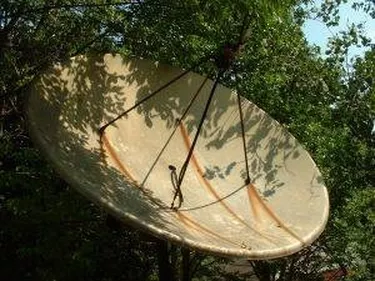 At one time giant satellite dishes were status symbols. People who could afford these behemoths were privy to hundreds of television stations that their more cash-challenged friends and neighbors had never even heard of. These days, however, cable or smaller dishes are in nearly every home and the oversized dishes have become eyesores. Here are some ways to make use of the enormous dish in your yard.
History
A satellite dish is actually a type of antenna that receives television transmissions from satellites. Home Box Office (HBO) was the first to transmit programming via satellite in 1976. A professor from Stanford University developed a dish that allowed him to pick up any satellite transmission for free. This professor published a how-to guide and eventually created a company to produce the dishes, which sold for as much as $10,000. In 1984, programmers lobbied for and won a law allowing them to scramble the channels so that consumers would have to pay for cable or satellite television.
Features
Old satellite dishes typically range from six to 12 feet in diameter. They are disk shaped with a concave in the center. The size and shape of these dishes make them ideal to use as the bottom of a small, man-made pond. To make a pond with a dish, dig a hole slightly wider than the dish and deep enough for a shallow pond. Line the hole with the dish and fill with rocks, sand, water and plants.
Considerations
Use the dish to create a practical, attractive gazebo or ramada for your yard. Attach several tall, sturdy wood posts around the perimeter of the dish. The dish should be upside down with its convex side up. Paint the dish and the poles all the same color and mount the posts into cement or deep enough in the ground. Set chairs inside for a shady place to sit and enjoy nature.
Potential
An old satellite dish could have a second life in your yard or garden by various means. Lean the dish at a slight slant against a sturdy wall and fill with top soil. Plant flowers to attract birds and butterflies into your yard, or plant some colorful ground cover in it. Set the dish on a brick or concrete foundation and fill partially with water for an instant birdbath. Or you could create a sundial from the oversized disk using a printable template (you will find a link in the "Resource" section of this article).
Prevention/Solution
If you live outside city limits, or if it is legal in your neighborhood, you could place the satellite dish, concave side up, inside of a shallow hole in your backyard. Fill it with wood, charcoal or even garbage (if it is legal in your area) and create your own fire pit or backyard bonfire. However, if you can find no other use for the dish, contact your local waste management department and inquire about how to recycle your old satellite dish.