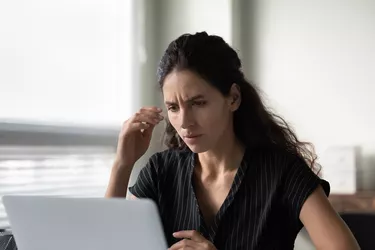 People often have various financial troubles from time to time that may make it difficult to pay back student loans. It is often hard to get student loans dismissed and the credit fallout can be bad. If you find yourself in a tough spot and need to get a hardship credit for student loans you have several options.
Eliminating the debt burden
Step 1
Attempt to cancel your loan by calling your loan holder, or alternatively, the office of Federal Student Aid at 1 (800) 621-3115.
Step 2
Complete the application for cancellation and include any necessary documentation that will help prove your financial hardship. An example would be a letter from your doctor in case of disability. Among those hardships that may meet criteria include death of the borrower, permanent disability and unemployment.
Step 3
Contact an attorney if you are undergoing bankruptcy proceedings and want to apply for a hardship credit for student loans. You will have to file another court action to support your cancellation request. The courts will consider a number of factors when considering your request, including income, expenses, the probable length of your financial difficulties and your efforts in repaying your debt. You will need supporting evidence to present your case.
Step 4
Apply for a deferment if you believe you will be able to repay your student loans at a later date. A deferment will allow you to miss payments for a set period of time due to current circumstances in your life, such as economic hardship or re-entering school for another degree. You may qualify if you have not defaulted on your loan. Contact your loan holder and request a deferment form.
Step 5
Apply for a forbearance if you cannot get a deferment. These are usually easier to get and are granted for up to one year. Sometimes you can get a forbearance if you have previously defaulted on a loan. Contact your loan holder and fill out a form to apply.
Warning
It can be hard to get future loans if you default on student loans so don't apply for a hardship credit unless you absolutely must.