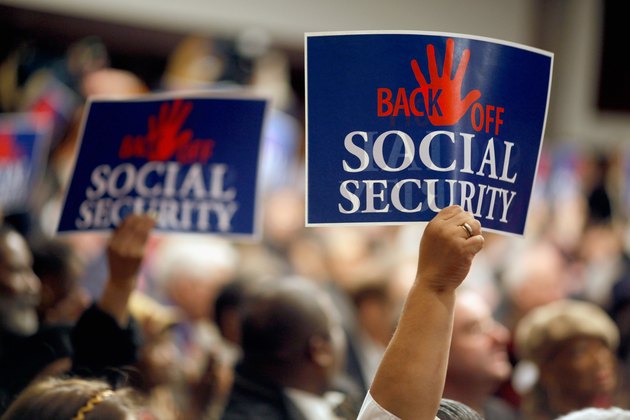 The Social Security Act, a key reform of President Franklin D. Roosevelt's New Deal, ordered one approach to the social welfare policy of the United States. The act had two components: social insurance and public assistance. Whereas public assistance programs provided cash relief to U.S. citizens, the social insurance program provided survivor and dependent coverages for a man's wife and children in return for a husband's contributions to the program. The programs provide inflation-indexed benefits to American citizens, including federal old age, survivor and disability insurance benefits.
Retiree Benefits
The Old-Age Insurance Program, one of three major social insurance provisions of the Social Security Act, distributes benefits to retired workers. It insures against one of a worker's major hazards, which is the loss of an income with age. Workers who pay taxes to the system while working receive a basic income to partially replace lost earnings at retirement. The worker's benefit amount is determined by his former average earnings and a statutory formula.
Disability Benefits
The program also provides Disability Insurance. Launched in 1956, it pays cash benefits to disabled workers who worked a certain amount of time and paid social security taxes. It also supports dependents of disabled workers and adult disabled children of retired or deceased workers. Whether a worker qualifies for disability benefits depends on if the worker continues to work, if his medical condition is severe and considered to be disabling. Also considered is if the worker can do the work he performed prior to qualifying illness or injury.
Survivors of Deceased Worker Benefits
The Social Security Act's Survivors Insurance Program exists to give a worker's survivors and dependents financial relief after that worker has died. The dependents still get the old-age benefits that would have been paid to the worker assuming that worker has worked long enough to receive benefits. The benefit is a percentage of what the deceased was eligible to receive.
Workers Compensation
The Social Security Act's Workers Compensation Program which, in some cases, compensates workers who are injured on the job or become ill as a result of their work. The program pays for lost wages, medical treatment and rehabilitation services. Each state regulates its own workers compensation program, so the state determines the amount of compensation. Most states base the benefit on the future wage loss of the injured or ill worker.
Unemployment Benefits
Social Security's unemployment insurance is administered by individual states according to federal guidelines. Its purpose is to assist people going through unplanned involuntary unemployment. To receive the benefit that's equal to a partial replacement of his income, the benefit recipient must have worked for a certain time period and have earned a particular dollar amount during this "base period." The base period is the first four quarters of the last five calendar quarters. The recipient must register at a public employment office.
Medicare
The Social Security Act also provides for the Medicare social insurance program. . The intent of the program is to democratize health insurance by providing national health insurance to pay medical costs of people aged 65 and older. Medicare Part A is compulsory hospital insurance. Part B is supplemental insurance for physician services, lab work and other costs, which is optional. Part D is optional prescription coverage.