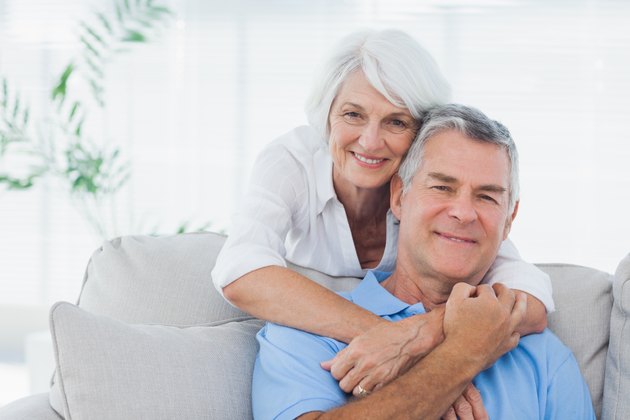 AARP has three life insurance options for members age 50 to 80 -- and their spouses ages 45 to 80 -- that all share certain features. None require medical exams or tests, although two demand applicants truthfully answer health questions. There are no waiting periods for AARP plans, although some limit coverage within the first two years.
Term Insurance
Level benefit term insurance acceptance is based on answers to three health questions. The rates are based on how much coverage is required -- from $10,000 to $100,000 -- and five-year age bands. The premiums increase when the recipient enters another band. It continues until age 80 regardless of health changes as long as the premiums are paid. At 80, the policy holder can pay the applicable premiums and make it a whole life account without a medical exam. The benefits are constant throughout, and the policy holder can use a death benefit if he's diagnosed with a terminal disease.
Permanent Life
With this option, the rates remain constant based on your age when the policy began. The initial cost is more than the term policy, but the gap narrows as you age. For example, a woman buying the permanent policy at age 60 would pay $40.51 a month from then on. For a term policy, she would pay $20.44 per month at age 60 but $39.83 at age 70. The permanent policy, however, builds up cash values you could borrow on, and it's fully paid up by age 95.
Guaranteed Acceptance
With guaranteed acceptance, the pay-off rules are the same as permanent life, but you get the insurance regardless of health issues. Rates are higher than the regular permanent insurance option. For example, the 60-year-old woman would pay $51.68 for this policy. Also, coverage is limited for death due to natural causes within the first two years.
Group Rates
AARP has partnered with New York Life Insurance to provide these insurance policies exclusively for their members at group rates. Getting them through AARP means its members will save money instead of buying the same or similar policies directly from New York Life. For example, in 2014, a 65-year-old woman would pay $35.18 a month for a term policy through New York Life, but just $31.99 for the same deal through the AARP.