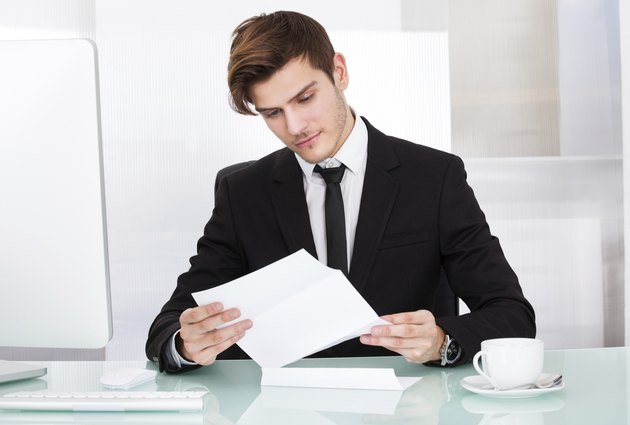 The Fair Credit Reporting Act of 1971 gives you the right to dispute inaccurate information on your credit reports. It also makes credit agencies responsible for investigating and correcting errors. Although each national agency has an online dispute process, the Federal Trade Commission recommends that you file a dispute in writing. A letter of dispute should be clear, unemotional and concise, and follow a standard business letter format.
Preliminary Steps
Each of the three major national credit reporting agencies -- Equifax, Experian and TransUnion -- collect information about you from lenders, collection agencies and public court records. However, information providers report credit information at different times and not all report to all three agencies. This means an error in one report may not be in the others. Get a free copy of your report from each agency from annualcreditreport.com, review each one carefully and highlight incorrect or inaccurate information. Include a copy of your marked-up credit report, required identification documents and any supporting documentation as attachments to the letter.
Use Correct Verbiage
A dispute letter should use objective, unemotional language no matter how serious the mistake might be. In a professional and courteous manner, address each issue using descriptors such as inaccurate, untimely, misleading, incomplete, ambiguous or unverifiable. Describe the actions you want the credit bureau to take, using exact phrases. For example, if you want the credit bureau to remove an item from your report, include a statement like "I am requesting that the item be removed.
Body Format and Wording
Use a generic salutation such as "Dear Sir or Madam" or "To Whom It May Concern." Open the letter with a clear statement of intent such as "I am writing to dispute the following information in my file. Please note the highlighted items on the attached copy of my credit report." Identify each error or inaccuracy in a separate paragraph. List the attachments you are including in the last paragraph using a sentence such "Enclosed you will find a copy my credit report and three payment receipts." Finally, sign the letter using your full legal name.
Addresses and Mailing
The FTC recommends that you send each letter by certified mail with a return receipt request. The mailing address for Equifax is Equifax Credit Information Services, Inc. P.O. Box 740241 Atlanta, GA 30374. The mailing address for Experian is Experian Dispute Resolution, P.O. Box 4500, Allen, TX 7501. For TransUnion, the address is TransUnion Consumer Solutions, P.O. Box 2000, Chester, PA 19022-2000.