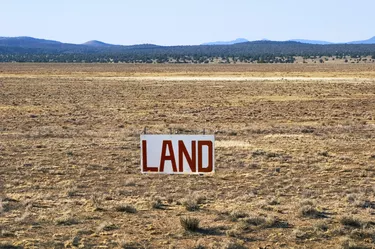 Buying a parcel of land to farm or build upon has many benefits but you'll have to jump through more hoops to finance such a purchase. Many lenders steer clear of land financing due to the increased risk involved. In typical mortgage transactions, a home is used as collateral to secure the loan's repayment. With an empty lot not yet developed, the lender lacks this security because the property is not your primary residence.
Step 1
Plan ahead for building or improving the land, as the land's intended use factors into your ability to gain financing. For example, know whether you can use the land to build a single-family home, multiple units, or build a home and work the land for farming and business purposes. Ensure that you can legally use the land by checking property lines, parcel dimensions, easements and title restrictions. Also, check with the municipality's zoning authority to ensure you can build according to your plan. You may need to have the zoning changed if the area is not zoned for development.
Step 2
Seek financing based on the type of land and its intended use. Raw or unimproved land lacks sewers, utilities, street access and structures, making it the most difficult type of land purchase to finance, according to Don Taylor of Bankrate. As with improved land that includes a home, you pay annual real estate taxes on raw land. Loans for raw, unimproved land are often treated as commercial loans, which makes a difference in the length of your repayment terms and how the lender calculates interest payments.
Step 3
Tap into a current home's equity or seek financing through a specialized lender to finance a land purchase. If you have sufficient equity in real estate you already own, you can use a home equity line of credit, a home equity loan or proceeds from a cash-out refinance to help with the land-purchase loan. Your additional contribution can offset the closing costs, lower your interest rate or otherwise help you obtain the best loan for your plans. Low-income buyers seeking rural land to develop can apply for a Department of Agriculture, or USDA, loan. The USDA's Farm Service Agency can finance buyers that plan to farm or build in designated rural areas. Borrowers must meet income restrictions and must be ineligible for financing through traditional lenders.
Step 4
Pass the underwriting approval process for a land loan. The land underwriting process takes more time and paperwork on both the lender's side and your end. Underwriters review the same items needed for a regular home purchase, such as a title report and appraisal evaluation but they also require more specific reports and documentation. For example, they may require land surveys, rather than the plat maps used for traditional home lending.
Warning
Expect to pay a higher interest rate and make a higher down payment contribution -- between 20% and 50% -- to finance a land purchase. Because building on land requires additional money and you don't immediately rely on the land for your housing needs, it's easier for borrowers to walk away without repaying the loan. A higher chance of default usually means higher loan costs.
Mortgage brokers and credit unions, or lenders based in the area you plan to buy, are good places to begin a land-loan search. Brokers have access to various lending institutions and a variety of loan programs and credit unions offer competitive rates, although they may impose other stringent limits, such as the size of the land. Local lenders may be more willing to lend on land if they are familiar with the area, according to Bankrate.