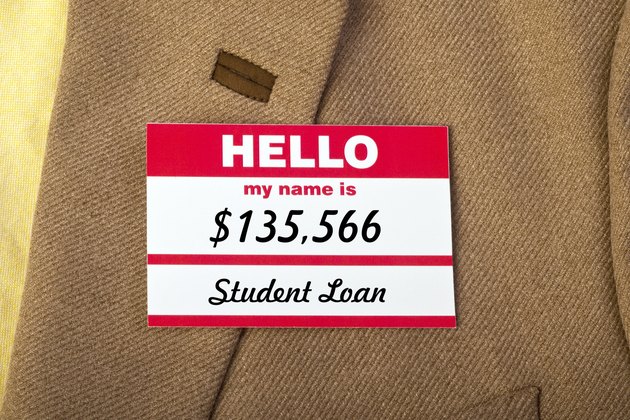 When a student loan goes into default, it's already had a seriously negative effect on your credit. Unless you take action to move the loan out of default, your lenders can take drastic action to compel you to pay. You have several options to restore your account to good standing, though if you borrowed from private lenders you'll have to move more quickly.
Serious Default Consequences
Your federal student loan doesn't go into default status until you fail to make a payment for 270 days if you're on a monthly pay schedule and 330 days for Federal Family Education Loans, or FFEL, for which payments are scheduled less often. If you don't pay the defaulted loan, you risk more than your credit rating: Your loan will be assigned to a collection agency, and the associated fees from collection will increase your debt. In addition, the Internal Revenue Service can intercept your tax refund to settle a portion of the debt, and your creditor can get a court order to garnish your wages. Student loan debt is notoriously difficult to discharge even in bankruptcy, so ignoring it won't make it go away.
Repayment
The simplest way to get out of default is to pay it off. While that may not be realistic if the balance is too high, the consequences of letting the loan remain in default are severe enough that it might be worth exploring ways of getting the money, perhaps by selling other assets. Contact your lender to get the payoff amount and an address where funds should be sent. Ask for written confirmation that the account has been paid off, and request a copy of your credit report afterward to make sure that payoff was reported.
Rehabilitation
For loans owned by the U.S. Department of Education, like the those provided by the William D. Ford Federal Direct Loan Program or FFEL, you'll need to agree with the Department of Education on a reasonable and affordable payment plan. Once your loan is rehabilitated, it moves out of default, making you eligible for benefits that include the ability to secure additional federal student loans. However, you have to make your payments on time during this period, and the loan then has to be purchased by a lender for it to be rehabilitated.
Consolidation
In loan consolidation, you take your existing loans and create a single obligation with a lender at a fixed interest rate. When your federal student loan is in default, you have to have made at least three voluntary, consecutive on-time payments to have it be eligible for consolidation. In addition, if a judgment has been issued against a loan that's in default, it can't be considered for consolidation unless that judgment has since been vacated.
Private Lenders
If your student loans are with a private lender, your default period is defined in your lending contract, not by the federal standards. Your loan can be considered in default after a single missed payment if that's what the contract says. You may not receive clear or timely options from a private lender telling you how to avoid default or how to get out of it once you're in it, according to a 2014 report from the Consumer Financial Protection Bureau. While those holding federal student loans are guaranteed access to affordable loan modification programs, private student loan borrowers don't have the same protection.