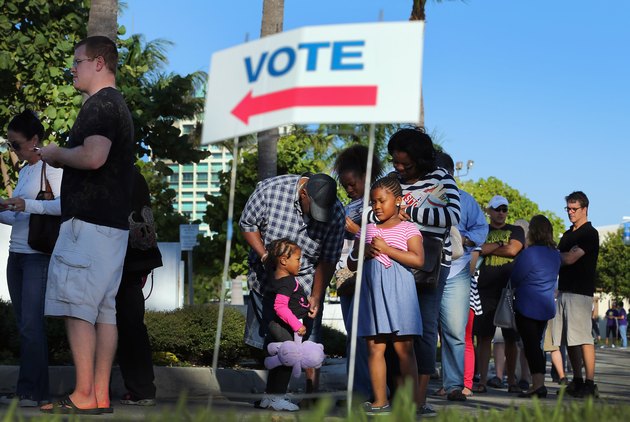 As a busy mom trying to manage a career and a household, I occasionally find myself wanting to bring in some extra cash, but I don't want the commitment that's required of working another permanent job. Elections are the perfect time to pick up some temporary work. If both your budget and your schedule are pushed to the limit this month, consider these short-term jobs that you can do on or around election day.
1. Poll worker
Poll workers can earn between $75-$300 per day, depending on the job description and location. Workers complete some training before the election, and then the job usually lasts from early in the morning on election day until the polls close. For most people, the job will be a 12 to 14 hour day.
As a poll worker, you might sign in voters, hand out ballots, help people understand the voting machines, and keep the voting place running in an organized fashion.
You can find these jobs by checking with the county where you are registered to vote. Some counties have a place to apply for the jobs on their website. Other counties might need you to call for information about what jobs are available.
2. Translator
In areas where English is not always the primary language, bilingual people are able to work at the polling places as a translator. You'll need to be fluent in English as well as the other primary language in your region. Translators typically average $20 per hour.
3. Ballot Processing Judge
Some regions need extra help processing paper ballots, whether they are mailed in advance or completed on election day. This job might involve counting ballots, verifying signatures, or delivering ballots to a secure location. The job typically pays $12.00 - $14.00 hourly.
4. Exit Polls Researcher
In addition to the government-sponsored poll-worker jobs, you might be able to land a job as an exit poll researcher. These workers conduct surveys after people have voted, and the findings are reported to the news media and research organizations for better understanding of why voters make the choices that they do. Exit polls are conducted by Edison Research. Typically workers spend about 12 hours conducting the surveys, and get paid 200 dollars or more.
Most laws prohibit exit polls from taking place in the same building as voting, so you'll probably be stationed outside to do this job. Be sure to dress for the weather!
5. Canvasser
If you have time to work for more than just election day, you can potentially put in a lot of hours canvassing for your favorite candidate. These jobs tend to be most available to people who live in swing states. You might call people or go door to door, handing out literature and encouraging people to vote for your candidate or cause. Typically canvassing jobs pay $15-20 per hour.
Since election procedures vary from state to state, the best way to find these jobs is to check your local job postings or talk to the officials in charge of elections in your county. For most jobs, you'll be required to be over the age of 18 and registered to vote where you live. You can also search your region for temporary election jobs at governmentjobs.com.