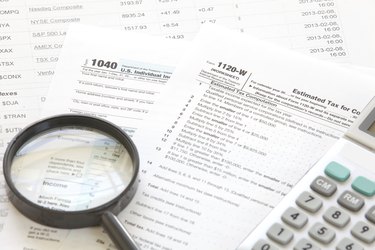 The Internal Revenue Service allows you to deduct the costs of the purchase and upkeep of work clothing on your annual income tax return if your employer does not reimburse you. The clothing must be specifically required by the employer and not suitable for everyday wear. Among those whose clothing expenses might qualify are police officers, firefighters, health care workers, mail carriers, theatrical performers and transportation workers. Required protective clothing -- such as safety boots, hard hats, and gloves -- are also deductible. Expenses related to clothing that can be worn outside of work for everyday purposes may not be deducted.
Claiming Unreimbursed Expenses
Expenses for work clothes and uniforms required by your employer and not suitable for everyday use are generally deducted on Schedule A (Form 1040), line 21, or Schedule A (Form 1040NR), line 7. These expenses are considered miscellaneous itemized deductions, but they may be deducted only if the total of all miscellaneous expenses exceeds 2 percent of your adjusted gross income. Save all receipts for your work-related clothing purchases and upkeep, such as dry cleaning and tailoring.