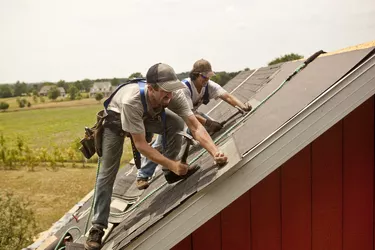 Your roof leaks. Most homeowners with an old roof may have to take on roof replacement for a home improvement project. But look harder. Is it time to go looking for a roofing contractor? Knowing the right time and the best time of the year to replace your roof could save you money.
If you have an old roof that's 25 years old or older, you should start looking for a roofer. Having missing shingles or curling shingles also indicates needing a new roofing system.
Granules are embedded in asphalt shingles to protect against the sun. When the roof ages, these granules can wash off. So, granules or grit in your gutter can also signify that a new roof is needed.
A sagging roof or missing shingles lets you know that a roofing professional should be called. Missing shingles contribute to a leaky roof. Have a roofer perform a roof inspection to see how much damage the old roof has.
Keep an eye on your neighbors. Most neighborhoods are built around the same time. So if you see your neighbors replacing their old roofs, then it could indicate that you need a new roof, too.
A leaky roof doesn't always indicate the need for a new roof. There could only be a little roof damage. You might only need a roof repair. Have a roof inspection performed by a roofing professional. A couple loose or missing asphalt shingles might be the problem.
A minor roof repair is a lot less expensive than a complete roof installation. Fortunately, a minor roof repair is a home improvement project for some homeowners. A roofing professional isn't always necessary. Most repairs will run between $150 and $1,500.
A damaged roof may warrant a more extensive repair and, at this point, a roofing professional may need to be called. It's still going to be less expensive than a new roof installation. For instance, a major roof repair will probably run between $1,500 and $7,000.
Types of Roofing Materials
There are several types of roofing. They include asphalt shingles, metal roofing and tile. Metal roofing and tile are the more costly.
Most roofing materials are asphalt shingles. They're inexpensive compared to the other two options and come in various colors to match a home. Asphalt shingles give a lovely, layered look.
Pricing for a new roofing system is based on the square footage of the homeowner's roof. If you want to compare roofers, estimate the cost of your shingles before gathering bids.
Measure your roof's square footage by multiplying your roof's overall width and length. Divide it up into sections if you have an oddly shaped roof. Then add these numbers together. You should add 10 percent to the final number to allow for waste. Take this total number, then divide by 100 to estimate the squares you'll need. You might want to figure a little overage to keep on hand for possible future repairs.
By knowing the cost of your shingles, you'll have a good idea of what the roofer is charging for materials and labor. But, ultimately, even with this information, according to Forbes, you'll probably find your new roof will cost over $8,000.
There are several types of roofing. They include asphalt shingles, metal roofing and tile. Metal roofing and tile are the more costly.
If you want to keep labor costs down, the best time of year to replace an old roof is during the winter months. This is not a roofer's busy season, so they are usually willing to give you a better roof installation price.
Most shingles offer a warranty for the lifespan of your new roof. But read the contract. Your definition of lifespan may be a little different than roofers or shingles manufacturer.