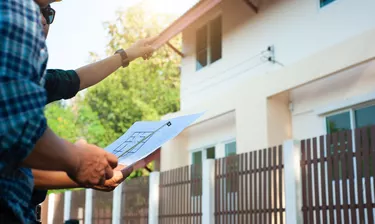 From weekend DIY projects to lengthy home renovations, U.S. homeowners embark on home improvement projects to the tune of a collective $420 billion annually. If you are considering home renovations, you'll want the results you envision at a price you can afford. But before you head to the home improvement store or interview general contractors, there are some things you need to know.
Planning for Home Improvement
Whatever the size and scope of your project, planning is essential. Even something as simple as a new paint job requires measuring, equipment and research before getting started. Bigger projects will require a bigger budget and more foresight to get the work on the right track from day one.
Writing things down is essential. From a list of potential projects to the supplies you need to get them done, you don't want to wing it. You want a plan. Get yourself a fresh notebook or Google doc and start scheming.
If you have a list of items that you want to tackle, start by prioritizing according to certain characteristics of each job:
​Safety​: Which projects are home repairs to correct an issue and make your home safer? Faulty wiring, a leaking water heater or moldy drywall are examples of hazards that you want to tackle first.
​Rank:​ Classify what is a need and what is a nice-to-have. Rank by order of importance to you and your family. Consider which updates will add value to your home and which will enhance your life – or both.

​Financial scope​: Which tasks can you take on financially right now, and which do you need to save for? Get a rough idea for now and get into details later.
​Timeline​: When do you plan to start and finish these projects? If you're weighing backyard landscaping against new paint colors on your interior walls, timeline and time of year will matter.
Once you have an idea of what you'd like to accomplish, it's time to dig into the details and see how they affect your project list.
Estimate the Cost of Each DIY Project
Since you have a good list of all the things you'd like to do, it's time to get a better idea of what each one costs in more detail. Any DIY projects will involve getting an inventory of what supplies you already have and which ones you will need to purchase.
You may be surprised at what you find among the tools and supplies in your garage, shed or basement. Every useful item you already have is something you don't have to budget for.
Pricing a job will range in difficulty according to how detailed the job is and how much you must rely on outside quotes to get an accurate figure.
For small DIY jobs, like redecorating your living room or dining room, pricing may be as simple as putting together a wish list of furniture, accessories and paint options, and then shopping around for those items online. Or, if you want to add some DIY curb appeal, you can assess how much mulch, landscaping stones and plants you need, and produce a rough dollar amount.
Home Depot and Menards have online calculators that help you determine how much material you need for many projects. These tools can also inspire ideas or help you price out ideas you find on Pinterest.
Calculating the Cost of Larger Jobs
For a more complicated affair like a full bathroom remodel, an online price comparison will work for things like fixtures, tiles and flooring. While you may not know which exact faucet or light fixture you want yet, you can get an impression of which ones you like and how much they cost.
Unless you have the know-how to replace plumbing and drywall expertly, you may want to find rough estimates for what these services will cost you. And if you want a high-tech bathroom, you will need a professional who knows how to work with the latest gadgets.
You can contact a general contractor to get a ballpark estimate of the cost of labor and materials for larger projects. If you are not at that stage yet and are still deciding whether a particular project ends up on your list of priorities, you can do some preliminary investigative work online.
Before offering an online quote, many contractor websites and online home project calculators will request your personal information. In part, this is to collect your data as a potential customer. And it's also because it's difficult to estimate the cost without knowing more about your situation, expectations and goals.
Neighborhood apps like Nextdoor are an excellent way to connect with other homeowners in the area who have had similar work done. You can get rough estimates of cost, recommendations for contractors and general advice from someone who has been in your shoes. Get a contractor out to give you an estimate for something as involved as a kitchen remodel or building an addition.
Remodeling Projects: DIY or Hire a Pro?
While you can certainly do some DIY footwork on the selection of kitchen cabinets, countertops and appliances, kitchen renovations require a lot more than most casual DIYers can take on. Much of what a general contractor is paid to do stems from professional experience and the ability to foresee and mitigate any problems that may come up throughout a job.
Changes to your kitchen floorplan may also involve knowing which is a load-bearing wall and which is one that you can easily take down. These are things most homeowners can't get into without expert help.
Kitchen and bathroom remodels involve electrical work, plumbing and building permits. A good contractor will coordinate all the permits, line up the work crews and provide day-to-day oversight of your project to completion.
A good rule of thumb to follow is to hire a professional for anything outside of your skillset that may be unsafe for you to attempt on your own or may require a very costly repair if the job goes wrong.
You don't need a general contractor to paint your living room. But you may want to contract with a professional painter for a whole-house interior or exterior paint job with lots of elevated, hard-to-reach areas. Replacing a light fixture is something you can do; leave any rewiring to a licensed electrician.
A good rule of thumb to follow is to hire a professional for anything outside of your skillset that may be unsafe for you to attempt on your own or may require a very costly repair if the job goes wrong.
When you do decide to hire a pro, shop around. Home renovations are a significant expense, and it is wise to interview several contractors and receive quotes before hiring and drawing up a contract.
Budgeting and Financing Home Improvement
If you don't have a large nest egg set aside for costly repairs and remodeling, you have options for financing the work you want to be done.
Some homeowners open a low- or zero-interest credit card to get through the renovation process, paying off the balance before the card's introductory period ends.
Many contractors also have financing programs available, but these options can come with high-interest rates. Check out your financing options carefully to find the best way to pay for your renovations.
Renovations and the Value of Your Home
When it comes to increasing the value of your home, not all home remodeling projects have the same impact. If you look around for advice from Zillow, your credit union or a design magazine like Architectural Digest, you are bound to find the same upgrades, repairs, and updates on the best return on investment (ROI) list.
Bathroom remodeling and kitchen remodeling tend to top the list both in the cost of taking on the project and in the money a homeowner can recoup by increasing their home's value or selling price.
Adding more livable space by finishing a basement, installing a patio or three-season room or converting an attic can add long-lasting value to your home, especially as the remote workforce grows.
Replacement projects such as refinishing a hardwood floor, putting on a roof or gutters, installing new windows and upgrading appliances or HVAC equipment are other popular choices for ROI.
Even low-cost projects like a paint refresh, landscaping improvements and upgrading lighting fixtures make a positive impression on homebuyers.