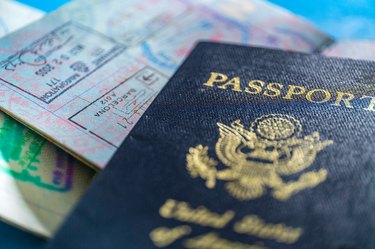 While a recent executive order from President Biden will soon let you renew your U.S. passport online instead of mailing in stacks of paper forms, the U.S Department of State had an announcement of their own for Americans – a $20 increase on passport services across the board.
The increased fees represent an ​18 to 25 percent​ increase on new passports and passport renewals. Right now, faced with ​6.5 percent​ inflation, a ​33 percent​ price hike on energy costs and Omicron and COVID-19 cases on the rise, how much will this latest increase slow down your travel plans?
The $20 increase announced by the State Department applies to all U.S. passports, whether you are a first-time applicant or are renewing:
​U.S. Passport book:​ $130 for age 16 and up or $100 for under age 16
​U.S. Passport card:​ $20 for age 16 and up or $15 for under age 16
​U.S. Passport book and card:​ $160 for age 16 and up or $115 for under age 16
​First-time execution fee:​ $35 for any age applicant and any type of U.S. passport
That pricing is for routine processing times of ​8 to 11 weeks​. If you'd like expedited service, submit an ​additional $60​ for 5 to 7 weeks. Processing times do not include mailing time. You can use the fee calculator, fee chart or other resources at travel.state.gov for details.
It is good to know, especially during a pandemic, that the State Department offers Life-or-Death Emergency Service and Urgent Travel Service if you need a passport in an emergency situation. Strict rules, a Passport Agency appointment and a $60 expedite fee apply.
In addition to the fee you pay to the U.S. State Department, there are other considerations for the cost and wait time of your new passport or renewal.
You'll need a passport photo. While you can certainly submit your own, you must comply with all State Department photo policies and requirements, or your documents will come right back to you and delay your passport. For this reason, you may want to pay the ​$15 fee​ for U.S. Postal Service (USPS) passport photo service.
If you decide to let the post office take care of your passport processing, expect an additional ​$35​ processing fee payable to USPS. Due to the coronavirus pandemic, you'll need an online appointment for most passport services at the post office.
Postage costs are also a consideration. Until the White House's executive order brings online passport services to reality, you must mail your documents via USPS. Passport documents may not be delivered by any other carrier and will be returned to you if shipped by anyone other than USPS, causing another delay.
To receive expedited service on passport delivery, you can choose to pay an additional cost with your passport application, currently ​$17.56​, to cover one- to two-day delivery.
Why the State Department Increase?
The State Department tweeted the reasoning behind the increase on December 20, citing the need to ensure that the U.S. passport remains "one of the most secure travel and identity documents in the world."
Just how the $20 price hike will be spent to increase security hasn't been specified. Still, there is no doubt that in our pandemic-centered times, security and safety are of utmost importance to Americans and domestic and international travelers worldwide.
In fact, some air travelers are enrolling in additional paid services, such as CLEAR, to increase personal security and decrease time spent in security checkpoints. When health, safety and security are at stake, many travelers right now are willing to make the investment.
If you are over age 16 when your U.S. passport is issued, it is valid for ​10 years​. It is valid for five years if you are under 16. If you think of it that way, the increase is just ​$2 to $4 per year​ for an extremely valuable document.
Plan Ahead and Apply Early
If you need a passport in the new year, in addition to increased fees, expect increased processing times and delivery delays due to continued workforce shortages.
As the State Department advises on its website, get ahead of processing times for your U.S. passport application – plan and apply early. And this year, set aside an extra $20.