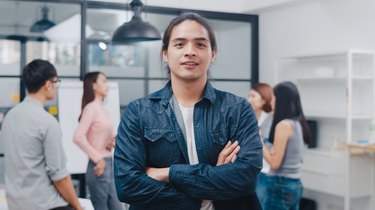 Industry experts and organizational psychologists alike agree — the COVID-19 pandemic didn't change the way we work so much as speed up what was already coming. Things like remote employees, video conferencing, and updated office arrangements were starting to proliferate before we locked down. The pandemic has proved itself a stress test for these changes in a major, major way.
While something like normal life is almost in reach, thanks to vaccine availability, going to work is not going to look like it did before for a long time, or maybe ever. Too many people have moved to new places while keeping their old jobs, or require accommodations for mental and physical health, or any of the other side effects from this vast societal change. That's why one HR professional argues that it's time to get ahead of the curve.
Writing for the ​New Hampshire Business Review,​ Adam Hamel encourages business owners and human resources departments to take time now to update their employee handbooks. Not only does it provide guidance for managers and employees on how to handle changing norms about social media and dress codes, but it can protect employers from inadvertently discriminating against workers or violating employment law.
For a more immediate focus, Hamel suggests any handbook updates or overhauls should focus on remote work and multistate workforces, in addition to behavioral guidelines for social networks and expectations around appearance while on the job. It's worth consulting an employment lawyer in your local jurisdiction, especially if any relevant laws have changed on the municipal, state, and federal level. It's not sexy, but it is important.