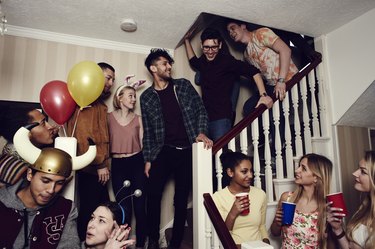 Everybody's sick of the pandemic. With months of self-quarantine behind us and, in much of the United States, no end in sight, it's no wonder so many people would like to blow off a little steam. The quickest way to end the pandemic, however, is to end the pandemic — and major companies are stepping in to try and do just that.
Airbnb announced this week that not only is it capping any rental's occupancy to 16 people, it's instituting an immediate, indefinite global ban on all parties and events. The company is very clear about its concern for public health. "Some have chosen to take bar and club behavior to homes, sometimes rented through our platform," it writes in a blog post. "We think such conduct is incredibly irresponsible — we do not want that type of business, and anyone engaged in or allowing that behavior does not belong on our platform."
This step is an escalation from previous efforts to weed out potential troublemakers, notably users 25 and under with fewer than three positive ratings. While the move is directed at ending so-called "lockdown parties," it's also going to have an effect on smaller gatherings, such as baby showers or engagement parties, which have also grown popular on Airbnb. It's a drastic measure at a time when the entire hospitality industry is suffering; recent reports indicate that nearly one-quarter of hotels are at risk of foreclosure.
As for Airbnb, it's trying to adjust, as we all are. This just means it might be best to plan for a Zoom gathering instead of an in-person celebration for a while yet.