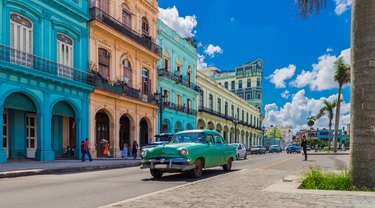 In 2016, Barack Obama became the first U.S. president to visit Cuba nearly 60 years. The door that opened between the two countries now seems to be slamming shut, unfortunately.
This week, the Trump-led federal government announced that it was reinstating travel restrictions on Americans visiting Cuba. Officially, the reason is that country's ongoing support for U.S. adversaries like Venezuela and Nicaragua. "These actions will help to keep U.S. dollars out of the hands of Cuban military, intelligence, and security services," said Secretary of the Treasury Steve Mnuchin in a press release.
Of course, it will also keep U.S. dollars out of the hands of everyday Cubans. Cruise liners, including Carnival, Norwegian, and Royal Caribbean, have issued new statements and policies for customers who were planning to visit Cuba after the restrictions go into effect on Sept. 2. They'll be offering refunds, new itineraries, and other accommodations, but they're not happy about the development. Travelers and tourism industries alike widely expected a rush of development in Cuba thanks to the Obama-era policy shift.
Visiting Cuba was already more complicated than getting to most places in the Western Hemisphere. Even under the looser restrictions, you need to declare your trip within one of 12 categories; tourism counts as "support for the Cuban people." If you were already heading over before September, you should still be able to proceed as intended. If you have strong feelings about this move, it's worth letting your elected representatives know how you stand on American policy relating to Cuba.