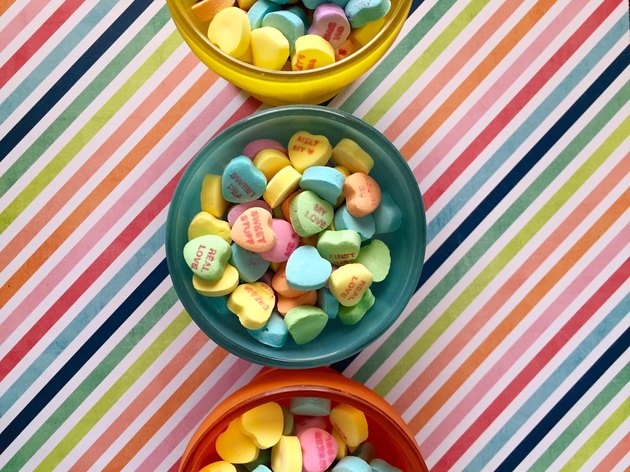 Even if you're unattached, there's something sweet about Valentine's Day — specifically, the millions of pounds of candy that get sold every year for the "Hallmark Holiday." Whether you're a fan of chocolate truffles, extravagant cakes and pastries, or just plain pink M&Ms, you're likely to find it on discount starting Feb. 15. Some candies are iconic parts of Valentine's Day in the U.S., and unfortunately, some of them have fallen on hard times.
Necco's Sweethearts Conversation Hearts are unmistakable: thumbnail-sized hard-but-crumbly treats with messages printed on top. They've been in production since 1902 (and date back to the Civil War era), but in 2019, they're staying home for the year. Necco, or the New England Confectionery Company, abruptly shut down its factories last summer after a series of downward business turns, taking its famous wafers along with it. Luckily for traditionalists, another recognizable brand stepped in: the Spangler Candy Co., famous for Dum-Dums, seasonal candy canes, and the original, inexplicable Circus Peanuts.
The good news is that Conversation Hearts will absolutely be back on the shelves in time for 2020. Given that Necco sold 8 billion of them in 2017, it takes a while to manufacture the candies, and with the sale to Spangler, there simply wasn't time. If you're nursing a broken heart, fret not — other candy companies make their own versions, and if that's not up to your tastes, there are plenty of homemade recipes floating around online. As a last resort, there are caches of Necco Conversation Hearts available for sale on eBay, so if you're really want them, for a price, the internet will supply.