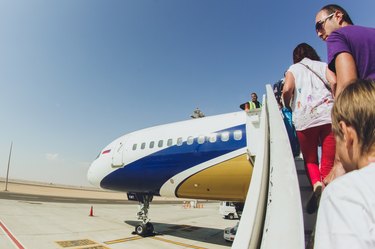 Whenever the Transportation Security Administration says it's about to make your life easier, it's worth taking that with a grain of salt. After all, this is the same agency that still makes us take off our shoes because one guy tried to put a bomb in his footwear in 2001. This time, however, they might actually stay true to their word.
The TSA announced this week that it's deploying a new kind of scanner at security lines in 15 airports nationwide. Rather than relying on X-ray machines, those airports will use computed tomography scanners — the same CT scanners used in hospitals to visualize 3D images of soft organs and other internal bodily structures. Basically, the TSA wants a better understanding of how your carryon's contents relate to each other in space, rather than all smushed and flattened out. That should help them get your luggage through more quickly, with fewer hand-searches overall.
That's the theory, at least. Of course, the TSA has also recently added some annoying recommendations to its screening policy, including asking passengers to remove snacks before scanning bags. The agency claims that fewer than 4 percent of fliers wait more than 20 minutes in line for security screening. If the new CT scanners can cut that down, it would be an improvement.
Here are the first places you're likely to see CT scanners at TSA checkpoints:
Baltimore-Washington International Airport (BWI)
Chicago O'Hare International Airport (ORD)
Cincinnati/Northern Kentucky International Airport (CVG)
Houston Hobby Airport (HOU)
Indianapolis International Airport (IND)
John F. Kennedy International Airport (JFK)
Boston Logan International Airport (BOS)
Los Angeles International Airport (LAX)
McCarran International Airport (LAS)
Oakland International Airport (OAK)
Philadelphia International Airport (PHL)
Phoenix Sky Harbor International Airport (PHX)
San Diego International Airport (SAN)
St. Louis Lambert International Airport (STL)
Washington-Dulles International Airport (IAD)