There's nothing like a week at the beach or a long weekend in the mountains. Wherever your vacation destination, you look forward to your trip throughout the year. You may even imagine what it would be like to own property in your favorite getaway spot. But renting and owning are two completely different things. Before making the leap, there are a few things to consider.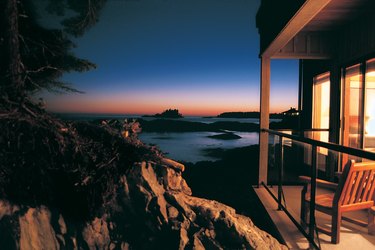 Choose the Right Location
If you're buying solely for your own personal use, your top consideration should be whether it's a place you'll visit on a regular basis. If it's a rental, make sure your chosen home is in an area that appeals to tourists. Vacation homes in the South perform better than other areas, particularly if you can find beachfront property. Panama City Beach, Fla., Chicago and Napa, Calif. are considered some of the best locations for vacation homes.
Consider Transportation Costs
Even if you own the property, you'll still have to pay to get there. If it involves a lengthy, expensive plane ride, chances are you won't visit often enough to make it worth it. In fact, a survey from the National Association of Realtors found that 80 percent of vacation homeowners choose a location within 50 miles of home. If it's so far away you'll end up visiting once a year or less, you may find that you're better off renting a place.
Know the Area
You may get a great deal on a property in Crested Butte, Colo., but unless you solely want to ski, you'll be disappointed. The town tops the list of most secluded places in America for a reason. The nearest town is 21 miles away and the city's population is just shy of 1,500 people. You should at least spend a week or two in your chosen destination before making a purchase. If you plan to turn the property into a rental, study up on local tourism to make sure it's a place people want to visit.
Understand the Restrictions
Before you purchased your primary home, you probably looked into any homeowners association rules and regulations. You should do the same with a potential vacation home, especially if you're buying it as a vacation rental. Beachfront cities in southern Florida, for instance, are facing increasing pressure due to complaints about partying. Cities like Traverse City, Mich., prohibit vacation rentals, and that isn't guaranteed to change any time soon. Even in cities without such restrictions, you may find the home resides in a subdivision where rentals are against the terms of the HOA.
Check Insurance and Taxes
Before you make an offer on a vacation home, make sure you fully understand what you're getting into with your monthly payments. Some areas have more expensive property taxes and insurance than others, especially if you're buying waterfront property. Basic homeowners' insurance won't cover your property for hazards like floods, hurricanes or sinkholes, so check into how much that will cost. In low- to moderate-risk areas of Florida, for instance, you'll pay an average of $130 to $450 per year extra for flood insurance, plus an additional $2,000 to $4,000 per year for sinkhole insurance.
Prepare for Upkeep
One harsh reality many vacation property buyers don't consider is that a second home requires maintenance, as well. Air conditioning units malfunction, light bulbs need to be changed and lawns need to be mowed. When you do take your vacation, you'll likely find you spend a sizable chunk of your time at the home making small repairs. If you plan to rent, you'll have to arrange for a local company to handle any repairs unless you live close enough to do them yourself. You'll also have the expense of a cleaning service and managing payments and reservations for the property.
Calculate the Cost
Once you know the total cost of the property, sit down and be honest with yourself about how often you'll visit. Consider that if you take a mortgage on your second home, most of the money you'll pay over the first few years will be interest. Even if you sell the house at a profit in a few years, you may find you're struggling just to break even. Instead, it may be less stressful to simply rent a home when you want to take a trip to the area.