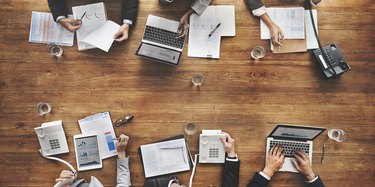 Back in April it was announced that J. Crew president and creative director Jenna Lyons was leaving the company, and now a further shakeup is underway: CEO Mickey Drexler is leaving too. While this company shuffle certainly means changes are coming to our wardrobe, it also has us wondering about what business lessons we can glean. Most pressingly what's the best way to leave a workplace? And more specifically, is two weeks notice necessary?
The answer is more complicated than merely yes or no, and really depends on your role, and what it will take to tie up loose ends. The truth of the matter is, two weeks is seldom enough — unless you work at a job that can easily be filled, and you have no responsibilities once you leave the premises. But even then...
If the above does not sound like your status or place of employment, then consider two weeks to be the minimum. A month is likely best. You want to give enough time for your role to be refilled, to tie up any loose ends and projects, to get to inbox zero, to have all the meetings you need to have, to do all the transition-y things you need to do, and to make sure your team won't be left high and dry. If you feel like you can accomplish that all in less than two weeks (without damaging any professional relationships) then great! But otherwise, make sure to give enough time. The most important thing is to leave in good standing.
Of course, once you give your notice your employer might just ask you to leave. But it's better to be the one leaving with your work done and your head held high than the one who is cutting out without getting the job done. In the world of work, last impressions are just as important as first.