Tax Day 2017 falls on April 18 (not the usual April 15, which falls on a weekend followed by Emancipation Day, a holiday observed in Washington D.C., this year), which is...well, just around the corner. If you still haven't finished your taxes and don't think you'll have enough time to do them, don't go into complete, meltdown panic mode: There is hope.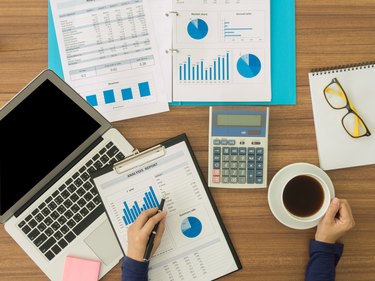 If you truly need more time to finish you taxes, you can file for an extension. You'll be in good (or at least ample) company if you do—according to Forbes, an estimated 10 million Americans will files for extensions this year.
Here's some great news: Filing for an extension is easy, normal, and, if you follow the rules, automatically granted.
There are a number of ways to go about filing, including filing for free online on the IRS website, asking your tax preparer to file for you, or even using your tax prep software. Here's what you'll need to file, according to Forbes:
Your name and address (plus the name and address of your spouse, if you're filing jointly)
Your Social Security number (ditto your spouse, if filing jointly)
An estimate of your total tax liability for 2016
What you have already paid in taxes for 2016
How much you're paying with the extension
Confused by the "estimate of tax liability" and "how much you're paying with the extension" points? It's very important to understand that an extension to file is just that—an extension to file. The government still expects you to pay what you owe on time, so if you expect to owe taxes (like if you're a freelancer, for example, and don't expect you've paid enough in quarterly taxes to cover what you'll ultimately owe), you should calculate a best guess and pay that (plus a little more, ideally) with your extension. Then, when you file, you'll get a refund for any excess payment. If you owe more on the other hand, you could owe interest on the amount due.
If you do plan to file for an extension, note that it's due on Tax Day, meaning it needs to be post-marked or filed by the end of the day on April 18. If you file your request on time, you'll have an extra six months to get all your pages of math in order. The 2017 deadline for those who request extensions is October 16, 2017. So mark that date and go ahead and start planning now to get your taxes in order by then.