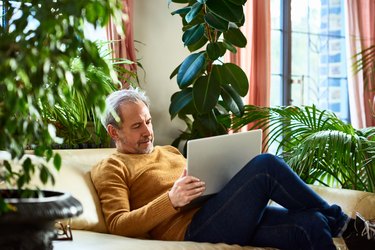 Withdrawing an unemployment compensation claim can be as simple as a few clicks on a mouse button. Stopping a fact-finding investigation into your unemployment benefits may be more difficult, especially if you've already received cash from a state agency. Requesting a withdrawal of your application may stop an interview with an agent, but the investigation may continue.
Online and Phone Claim Withdrawals
Each state maintains a website for its unemployment department where you can make changes to your claim status and adjust your personal information. Withdrawing your unemployment claim is sometimes possible through a state's unemployment division website as long as you have all the appropriate information, including any claim identification number, your Social Security number, and your unemployment account password.
The website's layout varies by state, but the basic process requires you to fill out an online unemployment withdrawal form or download the form to print and mail or fax in. You'll need to submit the completed document prior to any scheduled hearing or investigation regarding your claim.
Alternatively, your state's website may have a phone number for the processing center that you can call. Like with withdrawing by form, you'll need to have your information ready to verify your identity and help locate your claim.
Written Claim Withdrawal
If you've received formal written notification from your state's unemployment department regarding an appeal of benefits, this paperwork contains information and necessary forms to withdraw your claim.
Fill out these forms completely, providing clear information on your previous employer, present living address, and identifying information. Leaving out your identifying information, including your Social Security number or present address, could cause the state to shred your withdrawal request and continue with the investigation as normal.
Accepting Board Decisions
Withdrawing your claim or appeal relating to your unemployment benefits allows the agent reviewing your case to proceed with the unemployment department's original eligibility ruling. This means that if the state ruled you ineligible for benefits, withdrawing your claim or appeal guarantees you to remain ineligible. In this case, finding new employment is the best way for you to earn money going forward, because the state believes your previous job loss is due to some fault of your own.
If you already received disbursements of unemployment benefits, trying to withdraw your claim won't stop the state from continuing a fact-finding investigation.
Unemployment Fraud Problems
Lying on your unemployment application to inflate your benefits or make your employment status eligible for benefits when you would otherwise not be eligible is a crime. Requesting a withdrawal of your unemployment application after you've received benefits fraudulently won't stop the state from continuing with its investigation. In such a situation, the state is investigating a crime, and you're the prime suspect.
Penalties for unemployment compensation fraud include paying all the illegally received benefits back, plus interest, and possible jail time if you're a repeat offender.