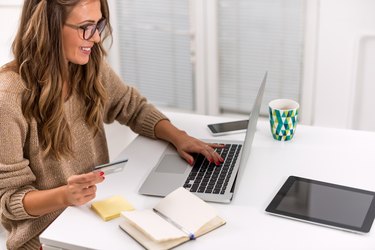 Smart consumers understand the importance of checking their credit card statements often, and credit card companies are usually cooperative when there are problems. If you need to cancel a Discover card pending payment, the first thing to do is to call them with your credit card and the charges in hand. Credit card scammers are more creative than ever these days, and credit card issuers have to deal with these kinds of problems every single day.
Cancel a Discover Card Pending Payment
Like other credit cards, Discover offers text and email alerts to let customers know when charges are pending to their accounts. This is the best way to stay on top of fraudulent charges – when an unusual alert is received, you can call the company right away. Unlike charges on statements, though, pending ones have not been posted to the account yet. Contacting the company as soon as a pending alert is sent can help to get the wheels in motion. A Discover cancel pending payment request is best made on the phone, when you can speak directly to a customer service representative.
Not all questionable charges are scams, but if it is something obvious, you will want to call your credit card company immediately and speak with their fraud department. Sometimes, though, unrecognized charges are simply things that were forgotten, like a stop at an unfamiliar store.
Merchants also make mistakes, like double charging, overcharging or forgetting to charge for an item and adding it later without the customer's knowledge. This is why it is also a good idea to contact the merchant – in most cases, the credit card company will ask if you have done so already.
Credit card issuers will often hesitate to solve problems with pending transactions. This makes sense, because the payment amounts are not yet finalized and the final payments due can be different. It is sometimes better to be patient after contacting the company – they will record your concerns and note the account. To cancel a pending transaction, customers can contact the merchants directly and ask them to contact the credit card company.
If I Cancel My Credit Card, What Happens to Pending Charges?
If you do decide to try to cancel your card, remember that you may still be responsible for pending charges that have not been posted. Credit card companies may not let accounts be closed if there have pending charges, though. If there are items in dispute, the card issuer will keep the investigation active and the account may remain open. It is important to recognize that cardholders also commit fraud, so the companies have to be very careful with this.
Should fraud be suspected, it is best to close the account and open another one. Closing down accounts and opening up new ones is not generally a big deal – it happens all the time, due to this kind of theft, divorces, switching to other credit cards and for a host of other reasons. Sometimes the investigations can take weeks or months, though, so you will want to get that new card to have in the meantime. If the charges are indeed fraudulent, the cardholder will not have to pay them. If they are legitimate, cardholders will be responsible and have to pay up for them.