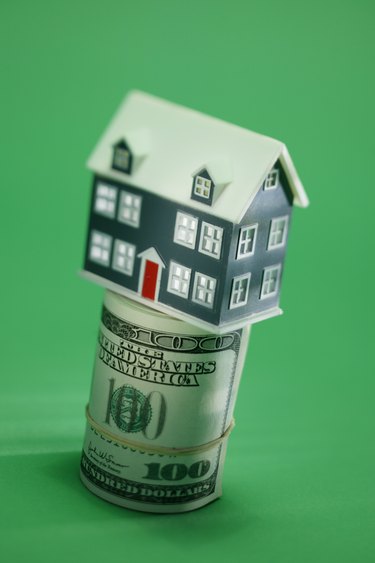 Mortgage lenders usually require a homebuyer to participate in the cost of the home by making a down payment to reduce the loan balance in relation to the price of the home. However, the down payment money is not the only cost you must pay when you close on the home purchase and mortgage paperwork. The cash to close will be higher than your planned down payment amount.
Down Payment
The down payment portion of the cash required to close on a home purchase is your upfront portion of the purchase price. The amount of the down payment can range from 3.5 percent of the home price for an FHA-financed purchased to more than 20 percent. The down payment amount becomes your equity in the home. For example, if the home costs $200,000 and you put 10 percent or $20,000 down, the initial loan amount will be $180,000. The difference between the loan balance and the home value is the owner's equity.
Mortgage Expenses
Obtaining a mortgage loan incurs a list of expenses that must be paid at closing. Expenses associated with a new mortgage include an application fee, a loan origination fee and loan discount points. Other costs include title insurance and appraisal and inspection fees. Certain lending sources have their own fees or upfront insurance costs. The government sponsored mortgage programs from the FHA, VA and Rural Housing Service have fees or insurance premium that could be included in the cash required at closing.
Prepaid Expenses
Cash to close will include several prepaid expenses. The primary expenses are property taxes, homeowner's insurance and prepaid interest. The insurance and tax amounts go into the escrow balance for your mortgage, so those payments can be made when they come due. All mortgages determine interest on the first of the month, so if you close in the middle of the month, interest will be collected to cover the days left in the month.
Considerations
According to the Federal Reserve Board, the mortgage and prepaid expenses are typically 3 percent of the amount of the mortgage. The guide warns expenses can be significantly higher in certain parts of the country. The mortgage lender will require the total cash to close to be in the form of a certified check. Call the lender the day before closing to get the exact amount of the cash to close, so a check can be drawn for the correct amount.