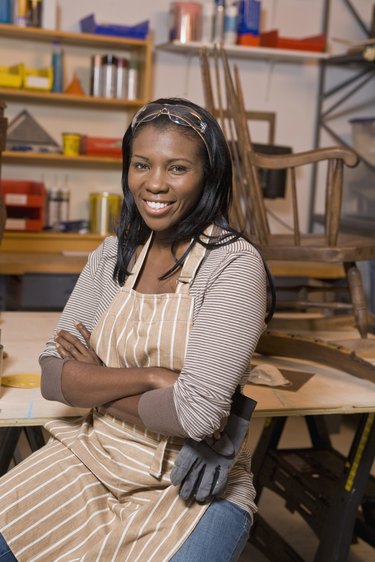 According to the Internal Revenue Service (IRS), an independent contractor is a worker who is paid to provide a service but is in control of how the work will be done in order to achieve the specified results. Independent contractors, unlike regular employees, typically do not have taxes withheld and are also responsible for the self-employment tax. These obligations can really add up when tax season comes, but there are a number of commonly accepted tax write-offs available to an independent contractor.
Home Office
Many self-employed independent contractors use their homes for business purposes. This can be the case for a day care worker who actually provides a service in the home or for those who work outside of their residences but still use their homes for scheduling, planning, business communication and other aspects of their work. A specific part of a home must be used "exclusively and regularly" for the business for it to qualify as a deduction, and contractors base the amount to write off on the percentage of the home used and the monthly rent or mortgage interest. IRS Form 8829 and 1040 Schedule C are both necessary to determine and report home expense write-offs.
Car Expenses
An independent contractor's car is also a common business expense that can qualify as a write-off. A contractor must lease or own the car and can only claim expenses associated with business use, not personal use. In most cases, there are two available methods of writing off car costs. The actual expenses of operating the car for business use can be deducted or you can use the standard mileage rate, which is 56.5 cents per mile for the 2013 tax year. If you are filing for the first year that the car is in use for business or you are leasing, you must deduct using the standard mileage rate.
Business Travel
Contractors may incur expenses from travel for short-term work, conferences or other business-related activities. The cost of these plane, train or bus tickets may be a tax write-off as long as the contractor, not the payer, pays for them. Hotel expenses, taxi fares, meals and communications expenses are also deductible. Like all self-employed deductions, travel purposes must be ordinary and necessary for the business or profession for their costs to qualify.
Medical Insurance
As a self-employed individual, a contractor typically receives no benefits and is responsible for the full cost of medical insurance. Fortunately, the cost of these premiums is also a tax write-off. This may include premiums paid for a spouse and children but does not include insurance paid for as part of a subsidized health plan from an employer. Expenses from actual medical treatment are also write-offs as long as they were not reimbursed.