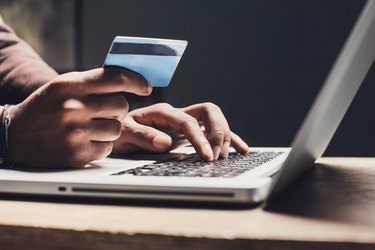 JPMorgan Chase Bank, familiarly known as Chase Bank, is something of a giant in the world of financial institutions. It offers approximately 4,900 branches, and it's really rather generous to the consumers who make it a household name, offering a variety of sign-up and other bonuses.
Bonus for Opening a New Account
Chase offers a $200 bonus right off the bat when you open a Total Checking account – with one catch. You have to arrange for direct deposits made into the Chase account you open, and they have to be from your employer, pension plan or government benefits. You have 90 days to do so, and other types of direct deposits, such as personal transfers, won't qualify you.
You can't simply open a new, secondary account if you already have one with Chase. You have to be a new customer.
Waiver of Monthly Service Fees
You might also qualify for Chase's waiver of your bank account's service fee, normally $12 a month. Your bank account must:
Receive at least $500 in one or more direct deposits each month to qualify, or
Maintain a balance of not less than $1,500 at the beginning of each day of the month, or
Maintain an average daily balance of $5,000, but this includes other Chase checking or savings accounts.
Credit Card Bonuses
Chase is particularly generous when it comes to its credit cards. It offers sign-up bonuses on new cards, specifically the Chase Ultimate Rewards cards. These include the Sapphire Reserve card, the Sapphire Preferred card and the Ink Business Preferred card, as well as four others at any point in time.
You'll also earn five points for each dollar you spend in different categories that rotate each month. The points can be transferred to Chase's travel partners, which include Southwest Airlines, United Airlines and Hyatt hotels, or you can redeem them for gift cards or cash.
How to Check the Status
Of course, you'll want to keep track of collecting all these goodies. Chase offers two options to help you along: online access and a Chase mobile app.
You can check your credit card rewards online by going to the Ultimate Rewards page of the Chase website and clicking on "Rewards Activity." Check your sign-up bonus on the mobile app by simply tapping on your card. The mobile app is available on the bank's website.
As for that Chase direct deposit bonus, how long will you have to wait? Chase indicates that the money should land in your account within 10 business days, so you can simply keep an eye on your balance and account activity to see if it's showed up there yet. The same goes for the service fee waiver.
What If Something Goes Wrong?
You can contact your bank branch or call the main Chase customer service number if your rewards or bonus don't show up, but check online or in your app first to make sure you do indeed have a reward or a bonus attached to your account or cards. Be sure you've met the necessary requirements.
It's Not 'Free' Money
Keep in mind that none of this is going to come to you tax-free. Uncle Sam will be looking over your shoulder. You can expect to receive a Form 1099-INT from Chase at year's end, and the IRS will receive a copy, too. Most of these perks are considered "interest" for tax purposes, so you'll have to report them as interest income on your tax return.
And about that checking account signup bonus. If you close the account within six months of opening it, Chase will recoup the money from your balance at the time of closure.