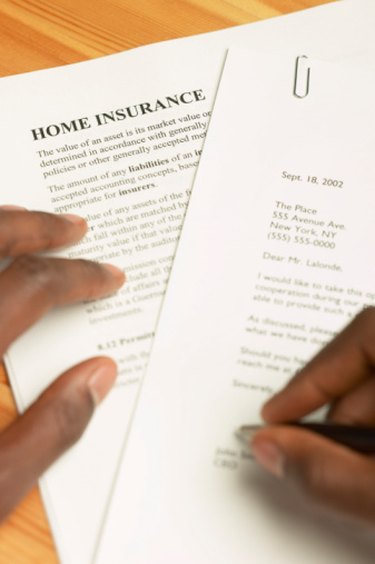 If you have acquired a loan in the United Kingdom, you may have been asked to take out payment protection insurance to cover your debt in the event that you became unable to make payments. Losing your primary income is one reason to take advantage of PPI. The problem is that the policies have so many loopholes that the only people who benefit from the plans are the lenders to which you pay the premiums. PPI is not always required, and you may be able to reclaim your payments.
Step 1
Read your policy and loan paperwork. Make sure that PPI was added to your loan. See when the policy began. If you were sold the policy between 2005 and 2011, you have a better chance of reclaiming your premiums. The process may be more difficult with older policies.
Step 2
Go through the list of questions to see if you are qualified to reclaim the PPI payments. Did the policy leave out the fact that the PPI was optional? Were you not told about any exclusions, such as pre-existing medical conditions or being retired? Did the lender fail to tell you that there is interest applied to your PPI costs? Were you not informed that the policy may expire long before the loan is fully paid off? Did the lender push or highly recommended the PPI coverage? Was the PPI added to your loan without your knowledge? If you answered "yes" to any of these questions, the policy was mis-sold and you are qualified to reclaim your premiums.
Step 3
Write a letter to your lender requesting a reclaim on your PPI policy. State when the policy was obtained and the reasons why your policy was mis-sold. Most of the time, sending a request letter to reclaim PPI payments is enough. The lender will accept or reject the request. If accepted, you will receive back the funds you paid. If it is rejected, additional action is required.
Step 4
Write a complaint letter to the Financial Ombudsman Service. The ombudsman is the official authority that handles disputes between you and your financial institution. List the details of the PPI policy, explain why you think it was mis-sold and include any correspondence between you and the lender regarding your request to reclaim the payments. The ombudsman will assess your claim and determine if it should be paid out. Use of the Financial Ombudsman Service requires no fee.
Tip
PPI policies were often mis-sold to people who are over the age of 65 and don't have income from employment. If you didn't already have income from employment, you are not allowed to register for PPI, but it was sometimes sold to such people anyway.