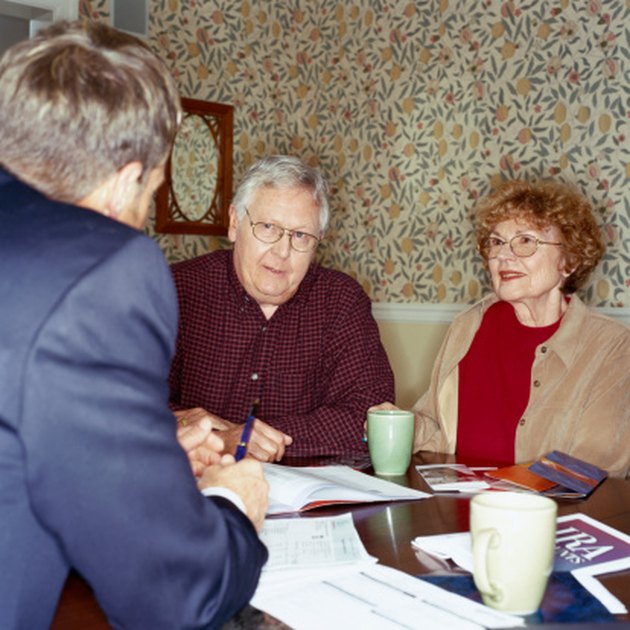 An analysis of the average pension income requires understanding the difference between a defined benefit pension plan and a defined contribution plan. Employers pay into worker defined benefit plans, while workers contribute to their own pension under a defined contribution plan. Some worker retirement plans use a combination of both employer- and employee-type contributions. The salary of the retiree, age of retirement and gender also contribute to variations in pension payments for retirement.
Age and Gender Differential
As a general rule, older workers have lower pensions. Laborers working decades ago planned for retirement using economic estimates based on life and a cost of living standard from an earlier period. Interest on funds deposited over time failed to keep pace with inflation and the increase of price of food and goods required for everyday living reduced the buying power of retirement funds. The average yearly pension income for males over age 65 in 2007 was $18,293, according to the Employee Benefit Research Institute. Female workers typically lose retirement contributions during years away from the workforce during pregnancy and time caring for children. A shortened work career and less pay mean a lower pension payment in retirement. Women over age 65 earned a mean annual pension of $11,895 in 2007.
Income Differential
People earning less pay earn less pension income. Defined benefit pension payments, supplied by the employer, use the employee's salary as a basis for the contributions. The lower the earnings, the less the employer contributes to the person's retirement. People in lower-paying jobs have less capacity to contribute to defined contribution plans. Income for these workers pays for daily living, education for family members and for health care. Higher-paid employees earn more discretionary income to invest in defined contributor retirement savings plans. This group of retirees typically earns more pension income for use in retirement. The Employee Benefit Research Institute reported only 27.9 percent of women and 42.6 percent of men age 65 in 2007 received pension or annuity payments.
Highest Pension Income Earners
Government employees, including retired military and U.S. Members of Congress, earned the highest average pension during retirement. Government employees contributed a significant amount of that income during employment to fund pension income in old age. The Pennsylvania Public School Employees' Retirement System, for instance, requires working members to contribute an average of 7.37 percent of their monthly income to the state retirement system. Administrators estimate the amount collected from workers during the 2011/12 fiscal year alone at more than $1 billion. The state government also contributes money for use in funding payments as pensioners live longer and the average worker salary increases.
Trends in Retirement Pensions
The greatest cost for current employers includes pension and retirement payments and health care costs. The U.S. Commerce Department Bureau of Economic Analysis reported contributions by employers to staff pension and insurance funds in 1946 totaled $2.543 billion dollars, an increase over totals for 1929 of only $650 million. CNBC noted in 2011 that the traditional defined company retirement benefit plan, with employers contributing funds or matching employee retirement contributions, has evaporated from the workplace.