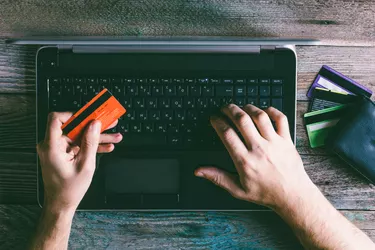 Like most consumer credit cards, a new Kohl's charge card must be activated after you receive it in the mail. This is to guard against fraud if the card is stolen before you receive it. In the past, you had to call from a landline phone to activate most credit cards. Today, Kohl's offers a few additional activation options.
You can activate a card from the company's website when you log in with a computer, though there are limitations if you're using a mobile device.
Register for Kohl's Charge Online
Kohls.com is the retail website for Kohl's department store, where you can shop and order clothing and other products. To access Kohl's charge card services, go to Kohls.com and look for the My Kohl's Charge button on the Account menu, which is located next to the search field at the top of the page. Clicking the button will redirect you to Credit.Kohls.com. You can also go to Credit.Kohls.com directly by typing the website address into a browser.
The first time you try to sign on to Credit.Kohls.com, you'll be asked to register your Kohl's Charge account for online access. When registering, you must provide your Kohl's 12-digit credit card number. You'll then be asked to input a username and password. As a security measure, you must choose three security questions and provide your personal answers; these questions will be used to validate your identity if you later forget your user name or password.
If you think you have a Kohl's Charge online account but aren't sure about the username or password, don't try more than a few guesses. After a few failed login attempts you will be locked out of your account for several hours. Even Kohl's Customer Service won't be able to unlock your account until the waiting period passes.
Activate Kohl's Credit Card Online
Kohl's requests that you wait until you receive your new charge card by mail before trying to activate it. Once you have your new card in hand, sign in to your my Kohl's Charge account. You must be the primary owner of the Kohl's Charge account or an authorized user in order to activate charge cards. You also must sign in from a computer. According to Kohl's, you cannot use a mobile device to activate charge cards.
After signing in to My Kohl's Charge, go to the Account Summary tab. You should see a question asking if you have a card to activate. There should also be a button to activate the card. The question and button are only displayed if you have a card waiting to be activated. Click the button and follow any additional instructions for activation.
A new Kohl's Charge card can be used immediately as soon as it's activated, either in a Kohl's store location or on the store's retail website at Kohls.com. Old charge cards are automatically deactivated when new cards are activated and can no longer be used. Kohl's recommends cutting up and discarding cards that have been deactivated.
Kohl's Activate in Store
Don't worry if you find yourself at a Kohl's store with a new charge card that hasn't been activated. At the time of purchase, you can present the new card with a photo identification, and the cashier will activate the card. You can also visit the Customer Service department at a Kohl's store to activate a card without making a purchase.
Kohl's Charge Customer Service
Kohl's customers also have the option of activating a new charge card by contacting Kohl's Customer Service by phone at (800) 954-0244 or (855) 564-5748. Customer Service should be contacted about problems signing into Credit.Kohls.com or charge card activation. You can send email to Customer Service at MyKohlsCharge@Kohls.com.