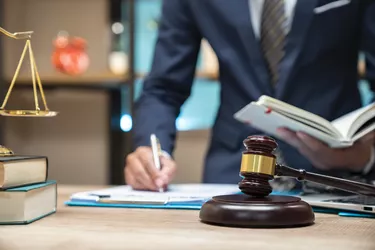 You might want to name someone power of attorney (POA) to act on your behalf for several reasons, including when you're writing a living will and working on estate planning. But what do you pay that person? A POA is not a job and is distinct from a conservator; therefore, there is no salary information for power of attorney. Establishing compensation rates is also difficult since some powers of attorney are actual attorneys and bill hourly, while others are unpaid.
A POA is a person who has specific legal authority, and the scope of what a power of attorney must do depends on the agreement. Hourly rates for lawyers who act as a power of attorney or attorney-in-fact can vary greatly depending on their responsibilities.
What Is a Power of Attorney?
A power of attorney is someone who has the legal authority to make critical decisions on behalf of another person. These choices may be financial, medical or legal in nature. They may have access to your bank account, Medicaid information, health care decisions, nursing home choice and long-term care, real estate, Social Security benefits and other legal services. For example, the IRS provides information about Form 2848, which grants power of attorney in the specific context of interacting with the IRS.
Most people who choose a POA do so in case they become incapacitated by injury or illness. They decide ahead of time who they want to make decisions for them. Sometimes, this person is a relative, but some people prefer a neutral party in other cases.
Others appoint a power of attorney if they will be unreachable for a period of time. This unreachable period may be due to prolonged travel (professional or otherwise), especially to remote destinations. An overseas military deployment or even a prison term might be a reason to appoint a POA at home.
How to Appoint a Power of Attorney
You don't usually have to ask someone to be your POA, although you absolutely should. Once you and that person have an understanding, you can draw up the legal power of attorney documents required. Most people seeking a POA hire a lawyer or law firm before beginning the process to get legal advice, but you can also download templates online for free or for a small fee.
A power of attorney agreement can either be very specific or all-encompassing. It should stipulate the beginning and end date of the arrangement and the conditions under which it is in force (for example, if you become incapacitated). It must detail the kinds of decisions that your POA is allowed to make for you.
Most adults can be appointed a power of attorney. As long as a person is over 18 and of sound mind and body, they can typically act as a durable power of attorney. If you don't name someone as your POA, the default becomes your closest family member, next of kin or caregiver (for example, your spouse, adult children, parents or sibling).
How Are Powers of Attorney Compensated?
Compensation for POAs varies widely. If your POA is a family member or close friend, the chances are that they won't receive any compensation, especially if they are also your beneficiaries. However, you may want to include them in your will, especially if they might spend much of their own time caring for you. Ultimately, however, that decision is up to you. Some people have someone else act on their behalf except in extreme circumstances.
If your power of attorney is a lawyer, they will receive their hourly rate and bill for all of the time they spend on your case. Often, these fees come from a person's estate or insurance. Your agreement will stipulate how they will be paid and who will be responsible for that payment. According to the U.S. Bureau of Labor Statistics, a lawyer's median hourly rate is ​$61.74​. However, in most states, many lawyers have an hourly rate that starts at $100 or more but can be as much as $500 or more per hour worked.