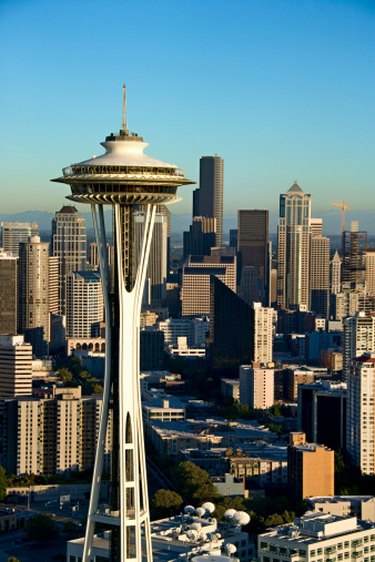 The State of Washington continues to add jobs to the labor market, but also provides unemployment compensation benefits for the state's unemployed who register and look for work. The state is reclaiming benefits from individuals who do not complete job searches and who do not apply for jobs as required, reports Nina Shapiro of the "Seattle Weekly." Washington State provides state unemployment benefits, but also also accepts federal funds for emergency unemployment compensation and extended benefits.
State Benefits
Washington has a total of 26 weeks of state unemployment benefits available to qualifying individuals. The Employment Security Department for Washington State distributes statistical studies for unemployment compensation trends. One study shows the average number of weeks of unemployment benefits paid was 18.4 in April 2011. Many unemployment benefits recipients are locating employment as Washington adds jobs to the labor market. Washington has a high minimum wage at $8.67 an hour in 2011, which applies to agricultural and non-agricultural jobs.
Emergency Unemployment Compensation
The federal tiers of unemployment compensation benefits add 53 weeks to the 26 weeks provided by the state. The states distribute these benefits into four tiers of 20 weeks, 14 weeks, 13 weeks and 6 weeks. The job seeker must exhaust all state benefits before starting on the federal benefits. The first two tiers of federal benefits are available in all states, but the last two tiers require a high unemployment rate. Washington continues to qualify, with 9.1 percent unemployment recorded for April 2011, reports Workforce Explorer.
Extended Benefits
Washington accepted the 13 weeks of federal extended benefits and added 7 weeks, for a total of 20 weeks of extended benefits available to unemployed individuals who exhaust all 26 weeks of state benefits and 53 weeks of federal emergency unemployment compensation benefits. The extended benefits require additional effort on the part of the job seeker, requiring four job searches each week. A suitable job includes a job that pays more than your unemployment benefits or that pays minimum wage.
Total Benefits
Total unemployment benefits available in Washington are a maximum of 99 weeks at time of publication. State benefits are 26 weeks, and those are the only weeks available when economic issues do not require emergency unemployment compensation benefits provided by the federal government. Congress decides when states receive assistance for unemployment benefits, and extends federal benefits based on the economy. Federal benefits expire in January 2012 and Congress can extend the time for availability, as occurred in December 2010.