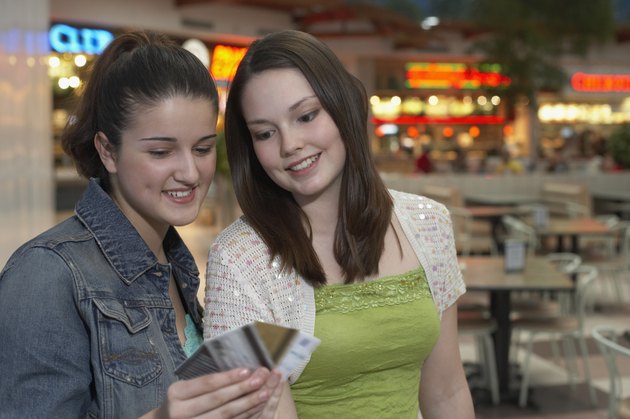 Teens who earn wages at a job or receive a sizable allowance benefit from lessons in money management. Debit cards are a great way for teens to learn the ins and outs of everyday transactions without the risks associated with a credit card. Depending on how much control you want to relinquish and your tolerance for fees, prepaid cards, student debit cards, regular debit cards and joint debit cards can all be good options for your teen.
Prepaid Debit Cards
If you want to strictly limit how much money your teen has access to, a prepaid card may be the way to go. Rather than being linked to a bank account like a regular debit card, a prepaid card must be loaded with funds before teens can use it. Having to constantly reload cash onto the card makes teens less likely to go overboard with spending. However, these cards can also come with hefty fees. Along with the initial activation fee, some cards charge monthly fees, cash reload fees, ATM fees and customer service fees. Read the fine print carefully and choose a card with minimal fees, such as the American Express Bluebird card.
Regular Debit Cards
Many parents are concerned that teens will blow their savings with a traditional debit card. However, a regular debit card can be a great option for teens as long as it's not linked to a savings account. As long as you decline overdraft coverage and protection for your teen's card, he can spend only the balance in his checking account. If he keeps a low balance in his account, your teen may have to pay a monthly fee for the checking account. But, unlike prepaid cards, traditional debit cards rarely have ongoing maintenance and usage fees.
Student Debit Cards
If you like the idea of a regular debit card but want to minimize fees, many banks waive monthly maintenance fees for student checking and savings accounts. Although most parents assume these accounts are designed for college students, some banks will grant student checking accounts to high school students. As with a regular checking account, you can deny overdraft protection to ensure your teen doesn't spend past his means. Many banks require students to move to a regular checking account after they've graduated from college.
Joint Bank Account Debit Card
If you want a really easy way to keep tabs on what your teen is buying, you can create a joint bank account in both of your names. This allows you to easily check account activity and deposit funds for your teen to spend. Although you have more control in this situation, there's a downside for your teen. If you're the one controlling the funds and can bail out your teen if he spends too much, he may not learn the lessons of financial responsibility and restraint.