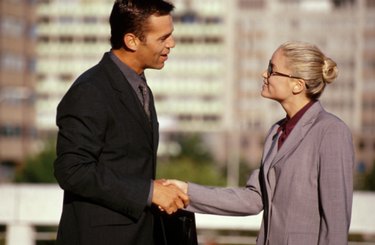 Land contracts are a form of seller financing in real estate deals. Sellers, or vendors, act as the lender and hold onto the deed as collateral, and the deal is recorded with city or town officials. Buyers, or vendees, make principal and interest payments directly to a seller. Buyers also pay property taxes and insurance and are responsible for repairs and maintenance as well. Indiana law follows these basic tenets, with a few important tweaks.
The SAFE Act
The SAFE (Secure and Fair Enforcement for Mortgage Licensing) Act, which went into effect in June, 2010, increases consumer protections by establishing minimum standards for the operation of mortgage loan originators. The SAFE Act in Indiana is often interpreted broadly and may include a seller attempting to complete a land contract sale. The Act states that anyone who "offers" or "provides" a residential mortgage loan or extends credit for a home purchase may be considered a loan originator. Indiana law defines a loan originator as someone who takes a residential loan application and negotiates a home loan for compensation. Loan originators must be licensed in Indiana in order to provide financing.
Exceptions to the SAFE Act
The SAFE Act defines a residential mortgage loan as a loan that secures a 1-to-4 unit private dwelling. Dwellings include condominiums, co-ops, mobile homes and trailers. If you previously lived in the home you are attempting to sell as a land contract, then you are excluded from abiding by the Act. If you are selling the home to an immediate relative or are selling commercial buildings, you are also exempt. An attorney who negotiates with a lender on behalf of a client is also exempt.
Judicial Foreclosure in Indiana
Indiana law states that vendors must follow rules regarding reclaiming property in the event a vendee becomes delinquent. Should the vendee default on the mortgage and cannot repay the loan, the vendor may opt to foreclose. If the vendee has significant equity and has not abandoned the property, then judicial closure is mandated -- in other words, the vendor must foreclose through the court system. Judicial foreclosure is time-consuming, expensive and requires the use of an attorney.
Non-Judicial Foreclosure and Forfeiture in Indiana
Indiana law allows vendors to foreclose non-judicially if the vendee becomes delinquent but has not accumulated significant equity. This means that the courts are not involved, and it's faster and cheaper. The vendor files a notice of default with the county clerk and the vendee. If the vendee does not remedy the default, then the house is foreclosed and sold. The vendor may repurchase the property. Forfeiture is similar to foreclosure, but the property is returned to the seller instead of going to auction.