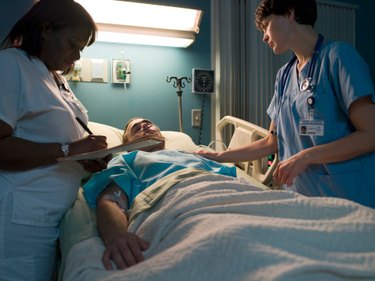 A flexible spending account (FSA) allows you to put pretax money aside to pay for medical costs and daycare. Throughout the year you can use these funds to pay for approved medical costs and to help cover the cost of daycare. Your employer may reimburse you or provide you with a special debit card to access the money. It is important to follow the guidelines when accessing the money.
Doctors and Hospital Costs
You can use the money in your flexible spending account to pay for co-payments and co-insurance costs as well as your annual health insurance deductible. You can also use the money to pay for dental work, to visit the eye doctor and to pay for physical therapy. Some forms of counseling can be covered with your flexible spending account, but double check with your human resources department before you assume that it is covered.
Childcare
Most employers require you to have a different flexible spending account to cover childcare costs, and not all employers will offer a childcare account. This FSA allows you to contribute a set amount each month before taxes are withdrawn. You may be reimbursed the costs or your employer may pay the daycare center directly. Your daycare provider will need to provide the business's tax identification number to receive payments from the flexible spending account.
Medical Supplies
Some medical supplies can be covered by a flexible spending account. You can use it to purchase prescription medication and supplies such as crutches. You may be able to use it purchase medically necessary items such as wheelchairs, walkers and other major medical supplies. To qualify, these expenses may need a prescription from a doctor. Talk to your plan's administrator to be sure the cost is covered before purchasing an item.
Prohibited Uses
There are restrictions on what a flexible spending account can be used for. Starting in 2011 flexible spending accounts cannot be used for over-the-counter medication such as pain relievers, allergy medicine or cold medicine. This also limits the purchase of things like bandages and other medical supplies that used to be covered. Additionally, the money cannot be used to cover cosmetic work such as teeth whitening or unnecessary plastic surgery. Marriage counseling is not be covered and massage therapy is only covered as part of a physical therapy program.